…says official report needed for prosecution
Regional Commander of Police Division 4C, Superintendent Khali Pareshram, has insisted that his ranks are clamping down on noise nuisance incidents occurring on the East Coast Demerara (ECD) corridor.
According to the Commander, statistics in his district have shown there is an increase in such cases for the year.
This disclosure has come on the heels of concerns raised by residents who continue to report incidents of noise nuisance in their areas.
"…have seen an increase in noise nuisance…it's not only coming from cars, but bars and workshops. We are partnering with EPA, (with whom) we have discussed this issue, and what we have seen across Guyana is the information that these residents might have about the procedures and policies that we have to go through to get to the bottom of these issues".
Commander Pareshram has said that to pursue a report of noise nuisance, his ranks would first have to have in their possession a report on the issue. One of the Force's biggest challenges, according to Commander Pareshram, is not having a report on the issue.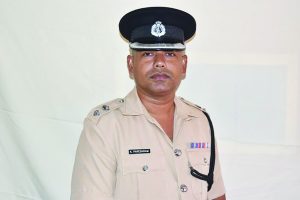 "We would need an identified reporter (complainant). From that, that reporter must be willing to give us a statement. From a statement, that reporter must be willing to go to court to give that evidence to a magistrate. That is the only way we can deal with noise pollution… it's through the courts", he explained.
He added that his division has mostly been receiving reports of persons who are congregating and playing loud music in various vicinities. He purported that this might be resulting from the recent removal of the national COVID-19 measures.
Pareshram has said the Force needs the support of residents in affected communities if it is to clamp down on noise pollution, so that there can be a reduction in noise pollution cases.
"…recently, we have been trying to enforce the laws under the music and dancing licence in Chp 23:03… There were some outcries in terms of complaints of persons saying that we are closing them off at a particular hour, but that is where we are guided. We are guided by the regulations under the Music and Dancing Act", he explained.
He said that even with the steps in place to deal with noise pollution, if the Police receive a report on such an issue, they are obligated to act on the report.
"Somebody will not just call the Police just because they want to call the Police. They call the Police because they want that satisfaction, and if we don't satisfy them, our relationship with them will not be on a positive side", he said.
The Commander further posited that acting on reports from citizens is an avenue to work with communities to ensure that those residents are comfortable. He said his ranks would also continue to police the communities in his district in order to help curb this issue of noise nuisance.
Just recently, there was a call by citizens to have "Silent Zone" areas, where the playing of music and entertainment is not allowed. These include at learning institutions such as the University of Guyana (UG) and the Cyril Potter Teachers' Training College. (G9)