Guyana's Hamzah Eastman and National Champion Geron Williams turned in good performances placing second and fourth respectively in the 2017 Harlem Skyscraper Cycling Classic in New York on Sunday.
Coco's Cycling' Eastman came in second behind Thomas Gibbons who won the Harlem Skyscraper Classic. Stephen Hall came in third while Geron Williams was fourth, two other Guyanese riders Stephano Husbands and Shaquel Agard participated but finished 20th and 24th respectively.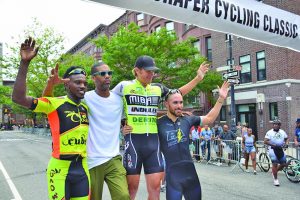 The Harlem Skyscraper Cycling Classic was created in 1973 by David Walker—a former New York Police Officer and NYPD Community Affairs Officer in Harlem's 25th Precinct. The Harlem Skyscraper Cycling Classic was designed as a community event focused on bicycle racing and safety programs for youth.
Within three years, the race became one of the premiere attractions of the United States Cycling Federation. Each year the race draws over 400 United States Cycling Federation (USCF)—(now known as USA Cycling) licensed cyclist from the greater NYC area, national and international riders, as well as hundreds of community participants.