Sponsorship from the ExxonMobil Foundation has led to the introduction of "HerVenture". An app for women, aiding them in the tools and resources needed to successfully enter and thrive in the business world.
The Cherie Blair Foundation for Women's "HerVenture" mobile learning app has been developed specifically for women who own micro, small and medium sized enterprises in low- and middle-income countries. It now brings vital entrepreneurial skills and support for women and ActionINVEST Caribbean Inc (ACI) is the local delivery partner that will spearhead implementation.
The app is currently available in Vietnam, Indonesia, Nigeria, Kenya and South Africa, having supported over 41,000 women since its launch in 2018. Now, with support from the ExxonMobil Foundation, it comes to Guyana at zero cost and targets at least 3000 women.
The launch on Tuesday at the British High Commissioner's residence was attended by First Lady Arya Ali, Human Services and Social Security Minister, Dr Vindhya Persaud; British High Commissioner Jane Miller and Exxon President Alistair Routledge among others.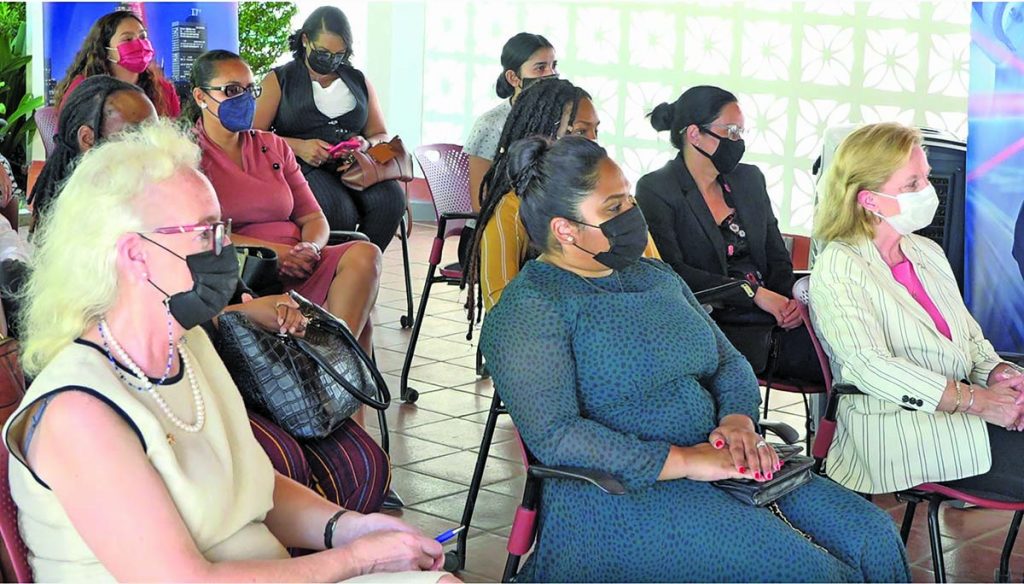 With COVID-19 drastically changing the way entrepreneurs work, advancing further into a digital world has been the key move. This idea was brought to life after realising that women must be equipped with the knowledge and resources to move online.
In response, the Foundation has added new learning modules to HerVenture in business resilience, digital marketing and e-commerce, supporting women to navigate the "new normal". Supporting the growth of women-owned enterprises provides Guyana with an important opportunity to generate sustainable economic livelihoods, reduce poverty and grow the economy.
According to Manager of Community Relations at ExxonMobil Guyana, Suzanne De Abreu, the enhanced knowledge will translate to greater success for the entire country.
"ExxonMobil invests heavily in female entrepreneurship globally. We know from empirical research that when we move forward, the world moves forward. We believe that investing in women is not just a nice thing to do as a corporate social responsibility. It's the right thing to do from a business perspective. As a global energy company, we know that we succeed and are sustainable when nations and communities are prosperous," the Exxon official outlined.
HerVenture aims to reach at least 3000 of these women entrepreneurs by the end of January 2022, benefitting families, local communities and the economy.
Emily Scott, Director of Programmes, the Cherie Blair Foundation for Women added, "Following HerVenture's positive impacts on tens of thousands of women's businesses across the world, we are delighted to bring our flagship app to Guyana. By partnering with corporates and their foundations like ExxonMobil Foundation, and expert local organisations like ActionINVEST Caribbean Inc, we can support huge numbers of women entrepreneurs in low- and middle-income countries to fulfil their potential and make progress towards our shared goal of closing the gender gap in economic participation."
This vital initiative comes at a crucial time when Guyana ranks 105th out of 156 countries in terms of gender equality in economic participation and opportunity, according to the World Economic Forum's 2021 Global Gender Gap Index. This means the country is ripe for initiatives to support women's economic empowerment.
As such, British High Commissioner Jane Miller positioned, "Gender issues are important to me. That is not just an altruistic, nice thing to do. It's because I know we have evidence that it makes a real difference. We have been that the goal of this programme is to reach 3000 women but in reality, we know that in reality, it's so many more than that."
Meanwhile, CEO of ActionINVEST, Davitri Doerga was certain that the app will deliver the level of business education and support to empower thousands of current and aspiring female entrepreneurs.
"My message to my fellow female entrepreneurs is to download and start using the HerVenture app and to be assured that our team at ActionINVEST is here to support you in every step of the way," she said. (G12)