– poverty-sticken parents appeal for help to maintain surviving children, unborn child
A family has plunged into mourning following the unexpected death of two-year-old Ricardo Jaigobin of Reliance Seawall, Essequibo Coast, Region Two (Pomeroon-Supenaam) who is suspected to have drowned.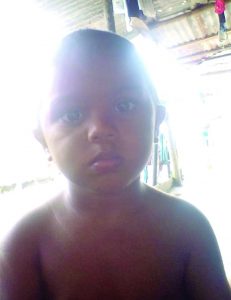 Reports are the toddler died in a trench in front of his grandparents' home at about 09:15h on Thursday.
On Saturday, when this publication visited the family's home, the distraught relatives were still coming to grips with the loss of the child.
Investigations revealed that he two-year-old trotted off to his grandparent's home at the seawall squatting area as he would usually do. His grandfather said he was in the garden at the time.
However, when his mother, Shavanie Persaud, went to collect young Ricardo, he was not seen. Suspicions grew as the grandmother, Basmattie Sooknarine, related to her that she too had not seen her grandson. Family members recalled that they began to search on land for Ricardo but only sought to venture to the trench after their search yielded no success.
A young man in the area who was assisting the family in the search jumped into the waterway and found the lad motionless in the trench in front of his grandparents' home.
He was immediately picked up and rushed to Suddie Hospital where he was pronounced dead on arrival. Meanwhile, police in Region Two (Pomeroon-Supenaam) related that no marks of violence were seen on the boy's body as the family awaits a post-mortem examination.
His father, Mukesh Jaigobin, is a labourer and related that they have been squatting near the seawall for over 20 years.
His common-law wife, Shevanie Persaud, a mother of five, said she is seven months pregnant. The housewife said her eldest child is 11 years old.
It was explained that the boy was already talking and walking and in one of the few pictures the family has of him, he was seen as a young and enthused cricketer ready to bat.
On the verge of tears, Persaud said the family is very poor and called for the public's assistance as they continue to cope in their time of sorrow.