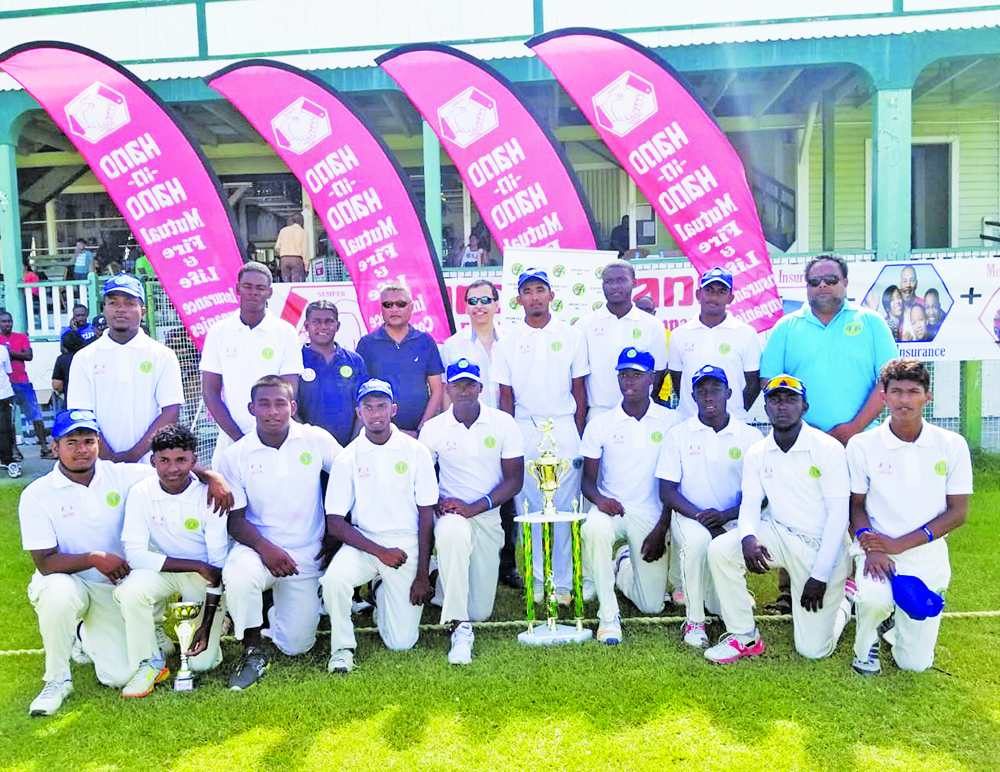 Under-19 players from across the three counties of Guyana, who were unable, owing to the COVID-19 pandemic, to compete in the previously-planned Guyana Cricket Board (GCB)/Hand-in-Hand Under-19 Inter-County Tournament for 2020, will now be afforded the opportunity of competing against each other from Wednesday, February 10, 2021 at the LBI Ground.
Round one of the tournament will witness Demerara competing against the Cinderella County, Essequibo on Wednesday, February 10. Round two will see Essequibo taking on the Ancient County, Berbice on Friday, February 12, while on Sunday, February 14, 2021, Demerara and Berbice will battle in the final round of the round-robin tournament. The matches involving Essequibo are tentatively scheduled to commence at 08:45h to facilitate travel, while the Sunday match is scheduled to begin from 09:15h.
The team with the most points shall be deemed winner of the tournament. However, in the event of teams finishing on equal points, the title will be given to the team with the most wins; if teams are even on wins and points, the team which were the winner of the match between them shall be deemed the winner; if teams are still equal, the team with the highest net run rate would be declared the winner.
The U-19 county teams are as follow:
Demerara: Andre Samaroo (Captain); Nicholas Rajpat; Chaitram Balgobin; Michael Pooran; Mathew Nandu; Ushardeva Balgobin; Sachin Singh; Mavendra Dindyal; Andre Seepersaud; Dwain Dick; Shamar Yearwood; Ariel Tilku; Bryon Bowen; Alvin Mohabir and Zachory Johad. The standbys are: Rudranauth Kission, Marlon Boele, Jaden Campbell, Trevon Charles, Rashid Benjamine and Jeffery Blairs.
Berbice: Isiah Thorne; Rampertab Ramnauth; Ricardo Ramdehol; Seon Glasgow (Vice Captain); Marvon Prashad; Shamar Angel; Jonathan Rampersaud; Tyrese Sealey; Chanderpaul Govindhan; Nigel Deodat; Gourav Ramesh; Doorsammy Mahadeo; Aaron Beharry; Gevon Shultz (Captain) and Leon Swammy. The standbys are: Collis Noble, Jeremy Sandia, Reyad Karim, Sarwan Chaitnarine, Zeynul Ramsammy, Tomani Casear, and Abdul Ramsammy. The Berbice U-19 Manager is Neil Rudder and the Coach is Winston Smith.
Essequibo: Lance Roberts; Ameer Singh (Captain); Azim Mohammed; Bhadesh Parsotam; Nicko Vincent; Carl Gilgeous; Jarrad Allicock; Mahesh Ramnarine; Abdol Nadir; Sheldon Charles; Wazim Mohamed; Mark Mohabeer; Jason Holder; Oren Gibson and Aryan Persaud. The Essequibo Manager is Nazeer Mohamed and the Coach is Andy Ramnarine.