GHB/GTT Indoor Hockey Tournament…
By Romario Samaroo
The 14th GTT Indoor Hockey Tournament got off to the usual flying start at the home of Indoor Hockey, the National Gymnasium with six breath taking games on Monday night.
The tournament which is divided into four categories saw some predictable results while some left the crowd stunned.
In the presence of an unusually half packed National Gymnasium, the first match up saw a second division clash between the experienced GCC and rookies, Phoenix. Phoenix had put up a respectable defence considering the talent in the GCC team, holding the guys from the Regent Street based club to only a small 2-0 lead over the guys in black (Phoenix) by the end of the first half.
Shaquille Leung scored in the third minute while Kareem McKenzie found the back of the net exactly 10 minutes later.
Heading into the second half, Phoenix were unable to keep up with the GCC side, as they seemed to have given up on the match, fading away to a 11-1 score line. Rafel Robinson was the only Phoenix player to score in the 26th minute. Trevon Smith scored twice (22nd and 23rd ) while Melroy Scotland scored in the 20th minute. Leung completed his hat trick with goals in the 24th and 26th minutes as Mckenize secured the final four goals for GCC in the 26th, 27th 29th and 30th.
In the other second division match up, Supersonic fought hard to a 4-2 victory over Hikers as the score was leveled 1-1 by half time. Shomere Garnett scored in the 15th snd Michael Harding (27th) were the two scores for Hikers.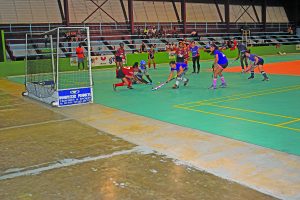 Orin Singh in the 12th, followed by Jael Gaskin in the 17th  and Dehron Wilkinson one minute later then Omar Hopkinson in the 22nd were the scorers for Supersonic.
In the veterans division, the older guys from Vintage showed they still had a lot of fight and spirit in them as they romped to a 6-1 thrashing of Antonio's Hikers in the 30 minute contest. The lone goal scorer for Hikers, James Menture started them off with a brisk entrance to the tournament by penetrating the defensive line in only the first minute of play. But the rest of the game belonged to Vintage. Skilled Dwayne Scott replied in typical Vintage style blasting past Goal keeper Azad DeAbrue four minutes later while his team mates, Damon Woodroffe and Philip Fernandes both scored in the eight minute to close off the first half. Devin Hooper scored twice in the second half (17th and 28th minute) and Patrick Edghill scored in the 21st minute to crush the hopes of Hikers team.
Meanwhile, in the ladies division, stern competition resulted in a draw between GCC Spartans and Old Fort lady Bugs. Excellent goal keeping by Sarafina Phillips (Lady Bugs) and Brianna Gordon (Spartans) ensured only 2-2 was the end result of the grueling match up. Romichelle Brumell was the only player to beat Gordon in the 35th and 38th minutes while Carina Moller lashed past Phillips in the 17th and 30th minute.
In the highly anticipated 1st division showdown between Old Fort and Saints resulted in the school based team going down 4-2 in full time. The game started with the same fighting spirit of Hikers and the attacking nature of the youthful Saints team as the two powerhouses clashed for glory only to hold off each other without a goal scored in the entire first half.
As the game went into the second half, Hilton Chester broke the spell to find the back of the net with a powerful shot past the Old Fort goal keeper. Robert Brumell then responded to a goal of his own to level the score before goals from Dehron Wilkinson (31st min.) and Aderemi Simon (34th min.) sent the Old Fort team to a 3-1 lead. Yonnick Peters scored the second goal for Saints in the 37th minute while Ascofu Simon placed the final goal for Old Fort in the penultimate minute of the game.
In the final match up, Robert France led Pepsi Hikers with five goals to a 7-2 victory over Bounty GCC in the 1st Division match-up. France scored in the 4th, 20th, 27th, 29th and 32nd minutes.
The action resumes today with six more exciting matches at the same venue beginning at 17:30h.
The matches to be played are Hikers taking on St. Stanislaus College (2nd Div.), Old Fort battling Phoenix (2nd Div.), Saints against GCC (2nd Div.), Hikers versus Old Fort (Veterans), Old Fort meeting 2020 (1st Div.) and GCC matching skills with Saints (1st Div.)