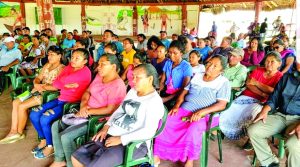 The Guyana Energy Agency (GEA) hosted a public consultation with stakeholders and residents of the villages of St Ignatius, Kumu and Quarrie in preparation for its proposed 1.5-megawatt Kumu Hydropower Project.
The consultation, which was recently held at St Ignatius at the community's benab, was conducted as part of the process to ensure that both residents and other stakeholders were aware of what the project entails, its benefits to the community and to address any concerns they may have regarding the project.
The GEA on Tuesday said that the session saw over 140 participants which included representatives from the Regional Democratic Council (RDC), Mayor and Town Council, Rupununi Chambers of Commerce (RCCI), Lethem Power Company (LPC) along with residents of Kumu, St Ignatius and Quarrie. The Kumu Hydropower Project, located on the Kumu River in Region Nine (Upper Takutu-Upper Essequibo), is a diversion type run of the river plant that is located 15 km southeast of the town of Lethem. The project aims to utilise water from the Kumu River which will facilitate the installation of a 1.5 MW plant. It will be connected to the Lethem electrical grid to serve Lethem and nearby villages with electricity.
The 1.5-megawatt plant will be connected to the Lethem power grid, which is operated by the Lethem Power Company Inc (LPCI) a subsidiary of the State-owned Hinterland Electrification Company Inc (HECI) that oversees the generation, transmission, distribution and sales of electric energy to customers in the hinterland region.
Other benefits of the project include the supply of electricity from a renewable indigenous energy source to the town of Lethem and its environs of St Ignatius and Kumu to promote and increase the use of renewable energy in Guyana, to support the social and economic development of the town of Lethem and its surrounding communities and to reduce the dependence on fossil-based fuels for electricity generation in Lethem.
Meanwhile, Hydropower Support Engineer, Dolwin Khan, who facilitated the presentation, assured stakeholders that the project will be designed to minimise environmental impacts during construction and operation.
In response to questions related to possible flooding due to the breaking of the hydropower weir/dam, Khan affirmed that this was not a concern given the anticipated design and location of the dam. He further explained that a significant reduction in the production cost of electricity generated in Lethem is one of the main benefits of the construction of the hydropower station while the need for annual Government subventions, which amounts to about US$500,000 per year, would be eliminated after commissioning.
The project is expected to be funded by the Islamic Development Bank and is expected to become operational by 2025.