Full name: Steven Ryan Taylor
Born: November 9, 1993,
Hialeah, Florida
Current age: 23
Playing role: Opening batsman
Batting style: Left-hand bat
Bowling style: Right-arm off-break
Taylor is no stranger to the Hero Caribbean Premier League, having played with the Barbados Tridents last year, but did not have the most memorable impact in his six matches. Taylor, who plays for the United States of America in ICC events and Jamaica Scorpions in the Regional Super50, is an explosive top-order batsman, who boasts a highest T20 score of 91 made against Italy in the 2013 ICC World Cup T20 qualifier.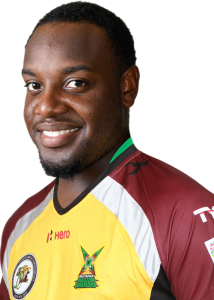 He was born as a South Floridian native to Jamaican parents, Loveth and Sylvan Taylor. Along with being a left-handed batsman, he was also a wicketkeeper. He became the first 14-year-old to hit a half century in the South Florida Cricket Alliance (SFCA) Keith Graham Memorial Classic (now the SFCA Sims Cup Classic). This innings, against Pakistan, while representing an SFCA Youth Team, included with 4 fours and 3 sixes off 33 balls and lasted just 41 minutes. He took 212 off Big Broward Cricket Academy, before retiring in the first 40-over match of the tournament.
The 23-year-old is setting himself some high standards as he told Guyana Times Sport: "My ultimate goal will be to have a repeat of another great run, targeting 250-300 runs in this tournament and being a crucial part of making my team be champions this year."
He further made a call to all Warriors' fans to come out and show support. "Come out, support your Amazon Warriors through the highs and lows, so with your support and God's blessing we can be your Champions."
The player will play a crucial role in the team's chances to win the title, adding great flair and power to a solid top order, given that he has teammates the likes of Chadwick Walton and Martin Guptill.