Agriculture Minister Zulfikar Mustapha on Tuesday handed over seven Honda motorcycles and two All-Terrain Vehicles (ATVs) to the Guyana Livestock Development Authority (GLDA) to boost its services in several regions.
The motorcycles and ATVs which valued some $10 million was catered for in the 2020 Emergency Budget, under the GLDA's capital Investment. The GLDA also handed over ten breeding bulls to farmers on Tuesday.
At the handing over ceremony, the Minister noted that the agriculture sector is poised to be one of the important sectors in Guyana, hence the major investments.
He pointed out that there has been renewed interest in the agricultural sector and Guyana has to take advantage of it.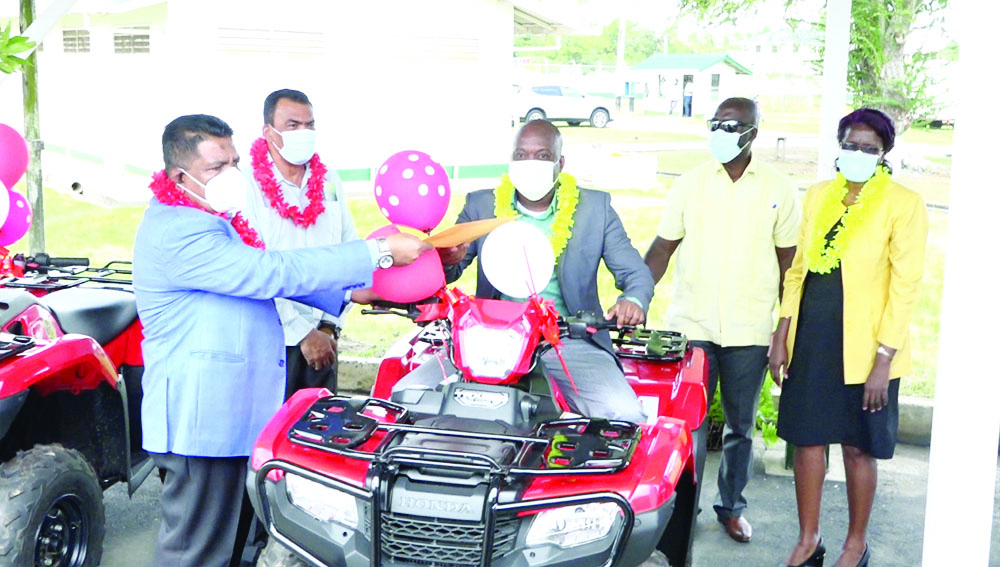 "We have seen this renewed interest where people are coming forward not only to plant rice, or plant other crops but in the livestock sector we have seen the upsurge in interest in this sector," he said.
He explained that there are instances of countries around the world that had to start their agriculture sector from "scratch" after neglecting it.
"As a Government, we recognise the importance of this sector, that is why we will continue to invest in it."
Minister Mustapha told the gathering that the Authority is currently being monitored by the Agriculture Ministry with the aim of fostering collaborative efforts. On this note, he added that there is evidence that some extension workers have not been working along with farmers in the various regions.
"We have to change those attitudes to form that kind of partnership. If we want to develop our country, if we want to develop the agriculture sector, then we can't work in a vacuum, we can't work in isolation from the farmers. We have to build that relationship we have to build that partnership," the Minister highlighted.
The motorcycles will be deployed to Regions Six, Four, Nine and 10 while Regions Three and Nine will benefit from the ATVs.