Veteran golfer Ian Gouveia gained momentum towards the quest for the Lusignan Golf Club title, as he emerged the winner of last Sunday's sixth Club Tournament.
Gouveia was challenged only by Club President Aleem Hussain in his Gross performance – a tie for 83, with Gouveia having a better back 9. In the end, it was Gouveia's game as his Net scores gained him a clear three-point lead over the second-place winner.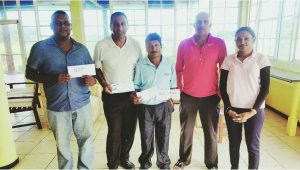 Nearest The Pin was won by Mahendra Bhagwandin; winner of last Sunday's Grand Coastal Tournament, Best Gross – Gouveia; Best Net first place: Gouveia 67/16; second – Rabindranath Persaud 70/17; third – Aleem Hussain 72/11; fourth – Patanjalee Persaud 73/18.
Others who placed in the top nine were: Satrohan Tiwari 73/14; David Harry 76/12; Mike Mangal 77/8; Bridgelall Harry 77/16 and Patrick Prashad 78/9. Despite parts of the course being dampened owing to inclement weather, some 17 pros braved the conditions to put on a competitive game.
Following the match, Club President Hussain congratulated the winners and expressed his delight that they had been determined to play a good game of golf despite the weather conditions. He thanked the groundsmen for the sterling work they are doing to maintain the course as a playable one. Standing in for Captain Chatterpaul Deo, golfer Dr Joaan Deo assisted with the distribution of prizes.