…dubs recent meeting "a total waste of time"
Social activist and Attorney-at-Law Christopher Ram has accused the Government of giving parents a raw deal on the recent Value Added Tax (VAT) on education consultation, and it was a total waste of time. Ram, who joined stakeholders in another protest held outside the Education Ministry's Brickdam office on Wednesday, said the people who attended felt disrespected.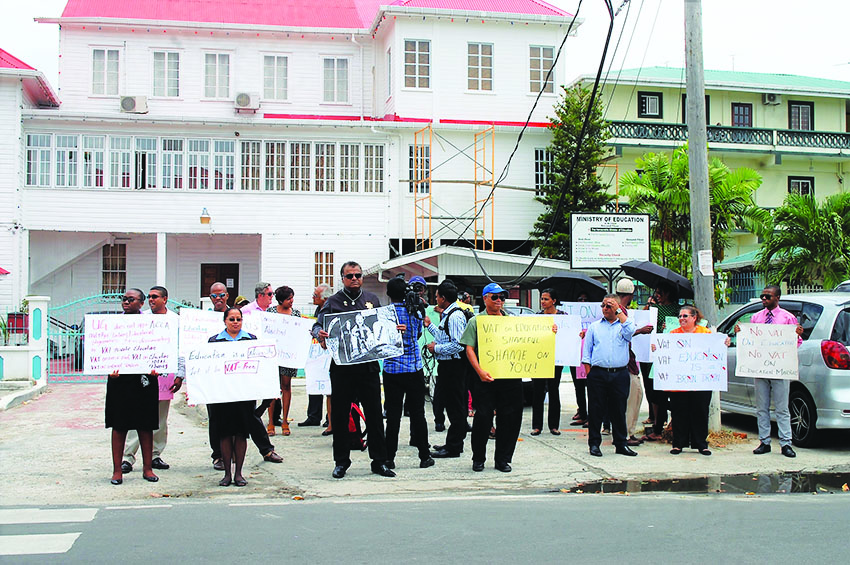 The outspoken lawyer told Guyana Times that he had no hope that the Government would make any changes even though it promised to review the policy in 2018.
Reflecting on what took place at the consultation held at the National Cultural Centre on Friday, April 7, Ram said that Prime Minister Moses Nagamootoo came with a prepared speech and a final decision. "It was an abuse and an insult to the parents, and everybody who attended there and felt that…look we were invited to a genuine consultation. That we would be listened to and that the matter would be discussed dispassionately at Cabinet," he opined.
Ram maintains that the Government was too quick to implement VAT on education without researching the impact and addressing the many concerns of those likely to be affected.
"This is seen as a political thing. We can't afford to be seen as weak. That's the test for this Government and that is regrettable. This is about children's education. This should not be about political strength and political image," he added.
Meanwhile, Director of Nations Incorporated, Dr Brian O'Toole told Guyana Times his institution has already seen cases where students have dropped out primarily because of the increases caused by VAT.
Dr O'Toole claims that 10 per cent of students pursuing studies under the Association of Business Executives (ABE) programmes have dropped out because they could not afford the increase.
"And what will happen to them? They are going to add to the ranks of the unemployed of Guyana. What a wonderful victory that is. Is that a victory?" he asserted.
The Nations Director also took issue with Nagamootoo's prepared speech. O'Toole said that was the main reason people decided to walk out during his speech, because they were convinced that a decision against their favour was already made.
A student who attends Nation's Sixth Form College, Othneil Lewis told this publication that while he has not dropped out of school yet, he did see that becoming a reality soon. He spoke about the need for Government to reconsider their policy, because Lewis claimed that his parents may no longer be able to afford to pay the extra school fees. Lewis alluded to the fact that he was not the only one affected by this, because many parents continued to make sacrifices to send their children to a private educational institution, where the teaching and training were of a higher standard.
Private education became subject to VAT on February 1 as a measure of the 2017 National Budget. However, there has been public outcry against the measure, including protests organised by private schools. A petition which garnered close to 2000 signatures was also sent to Government.
Opposition Leader and former President Bharrat Jagdeo has condemned this approach by the Government, noting that it was a demonstration that the Administration lacked clear vision on the education sector.
Many other people and institutions have come out criticising Government over its decision to charge VAT on education – a policy that is not practised anywhere else in the world which strives for economic betterment.