The Communities Ministry on Thursday donated a 28-cubic metre garbage truck worth some $45 million to City Hall.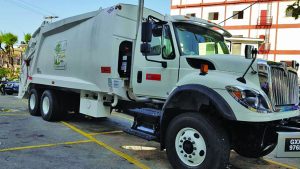 Handing over the truck to Georgetown Mayor, Ubraj Narine was Minister Ronald Bulkan, who was keen to note that the truck is part of the Government's 2019 subvention programme.
The cash-strapped agency will now be equipped to pick up more of the city's waste in a timelier manner.
Bulkan during brief comments said he is aware of the Council's financial constraints, while explaining that he believes this donation will help to save the agency some cash.
In addition to the truck donated, the Minister has committed to contributing another garbage truck soon to the tune of $35 million.
In June City Hall was gifted a new John Deere tractor and dump trailer as part of Government's subvention to that municipality by the Ministry. The total cost of that donation stood at $9 million.
Solid Waste Management Director Walter Narine at that time expressed appreciation as he noted that the Council is now closer to collecting its own solid waste. City Hall presently pays $14 million to its two major contractors.