President David Granger has outlined that the Administration is looking to strengthen and equip the Guyana Police Force, so that there can be tight security in communities along the country's borders.
Speaking on this week's televised programme 'The Public Interest', which aired on Friday, the Head of State explained that there are some necessary "organisational changes" taking place within the Force; especially as it relates to adequately equipping the Force to police the borders.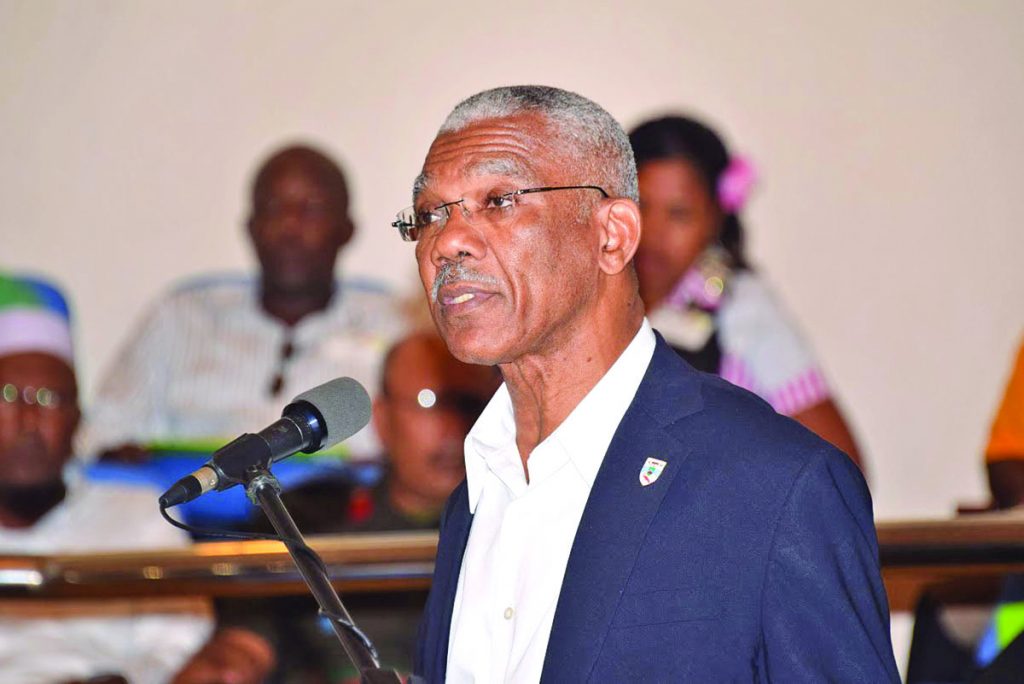 "We cannot control 3000, 4000 kilometers of border on foot. We have to give the Police better boats, we have to give them All Terrain Vehicles (ATVs), we have to give them aircraft and so on. We have provided some horses but the horses cannot cover the distance," the President noted, while adding that the Rupununi, Region Nine (Upper Takatu-Upper Essequibo) alone is bigger than all of Costa Rica.
Furthermore, Granger underscored the need to have more manpower stationed along the porous borders, but in this vain, recognised that the country's premier law enforcement agency is under strength.
"We want to recruit more people into the Mounted Branch, particularly in the Rupununi and we want to have local residents who could participate in the mounted branch patrols operations there," he remarked.
Only on Thursday last, Minister of State Joseph Harmon told reporters at the post-Cabinet press briefing that Government is exploring various ways on how to further strengthen security at the borders and will accept assistance from any international partner willing to lend a hand.
He pointed out that there are a range of opportunities from which Guyana enjoys such partnership. These include the US-funded Caribbean Basin Security Initiative (CBSI), the Union of South American Nations (UNASUR) as well as bilateral arrangements between Guyana and neighbouring Brazil.
According to the Minister of State, the latter option has seen Guyana benefiting from shared information on both sides of its border with that neighbour.
Harmon stated that the Administration will spare no effort to ensure the safety of its citizens, so that the country could to develop its resources in an atmosphere and an environment of peace.
On the issue of seeking international help, Public Security Minister Khemraj Ramjattan, just over a week ago, disclosed that during a recent visit to Washington, DC, requests were made for assistance in strengthening security at the country's borders in order to curb gun-smuggling, particularly from Brazil, where there is a very long porous border too.
Only recently, the Private Sector Commission (PSC) called on Government to adequately equip local law enforcement agencies and personnel to better police the country's borders in order to arrest gun-smuggling from the Portuguese-speaking nation.
According to PSC Chairman, Eddie Boyer, citizens are concerned about the inability of the State to generally protect them from widespread gun inspired crime, threatening their wellbeing and safety
To this end, the PSC Chairman is calling on President David Granger, who is also Commander-in-Chief of the armed forces, to publicly order the men and women in uniform to bring some order and control as it relates to criminal gangs and individuals terrorising the Guyanese community.
"This is not the good life. It is time that our President intervenes… We believe that each and every one of our ordinary citizens feel threatened, regardless of where they happen to be, whether in the street, their workplace or in their homes, are under threat each day from violent gun related crime," the Chairman posited.
Meanwhile, during 'The Public Interest' programme, President Granger also expressed concern over illegal weapons entering Guyana from Brazil and signalled intentions to up border control to get these guns off the streets.
"Our biggest problem is the fact that we have a border with Brazil which is the border's largest producer and exporter of small arms. Many illegal weapons are traced to Brazil…," he noted.
Criticisms
Moreover, the Head of State also expressed concern over the fact that private firearm holders may be renting weapons to criminals. As such, he noted that Government is considering clamping down on the issuance of gun licences to civilians. He noted that in the fullness of time, his Administration would like to see firearms in the hands of primarily law enforcement officers.
This statement did not go down well with the public, as criticisms mounted against the President since many believe that having personalised weapons is an avenue of protection against criminals who are now perceived to be emboldened.
In fact, just last Wednesday, a 20-year-old Albouystown, Georgetown, youth was shot and killed by a miner after he (the 20-year-old youth) and an accomplice attempted to invade the businessman's home at Diamond Housing Scheme, East Bank Demerara.