Bartica Easter Regatta Sports
─ BMX cyclists slated to compete
In what is being touted as one of the biggest showdowns in the sports programme of Bartica Easter Regatta 2019, grass track racers are slated to compete against each other at the Mongrippa Hill track this Easter Saturday to determine who among them are 'the best of the best' in their respective categories.
Organised by the Red Earth Riders Sports Club in conjunction with the Mayor and Town Council of Bartica, the likes of home boys Andrew 'Dare Devil' Wong, Dave Young, Bobby Rasul, Dale Hareen and Steven Vieira will all be on show as they seek to outperform each other.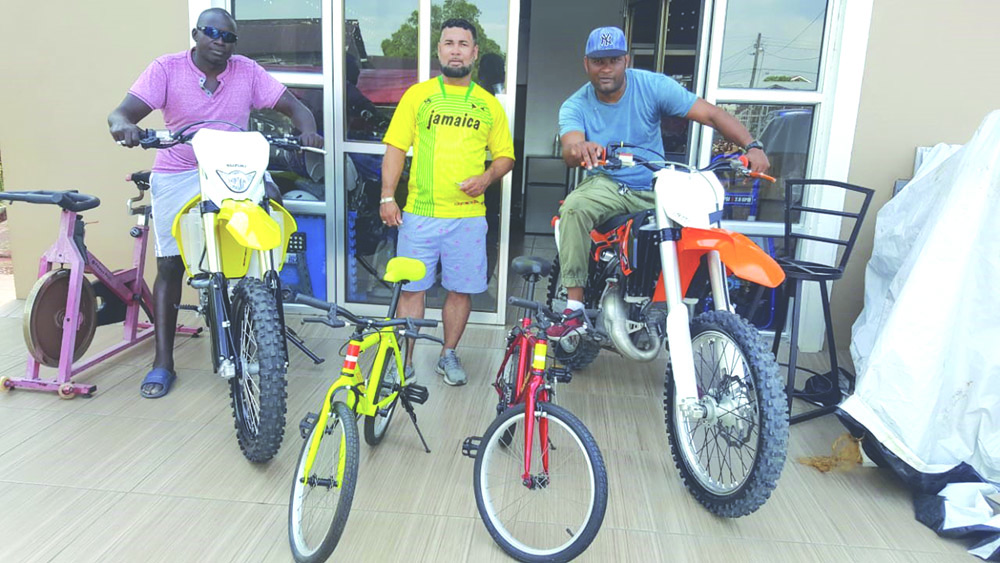 Last year's event was exciting, but the organisers are promising an even bigger and more competitive event this time around, with riders from Essequibo, East Coast Demerara, Georgetown and Linden already confirmed to throw down the gauntlet against the home boys.
Lucrative cash prizes and trophies would be on offer for the 14 races carded for the day.
According to Haydock Parris and Dave Young, two representatives of Red Earth Riders Sports Club, the club is more than happy to be working along with the Sports Organiser for the Regatta, Michael Dos Santos, and the Mayor and Town Council — which now has the franchise for the Regatta.
They are encouraging fans to come out in their numbers and enjoy what would be a fantastic day of riding, and they have also pulled out the stops to ensure the BMX riders in Bartica would enjoy what is going to be served up.
The men disclosed that building on the momentum of the recently held Bartica Cycling Challenge — which had been a collaborative effort between the Mayor and Town Council and the Guyana Cycling Federation — the club will be running off a total of four (4) BMX races, each of which would have a BMX cycle as the first prize, apart from other incentives.
There would be races for girls under 12, and boys under 10, 13 and 15; and there would be other incentives for BMX cyclists placing in the other podium positions.
Among the sponsors on board to date are Guyoil, Elegance Jewellery, Sir Gas Station, KGM Security, Nicholas Kadir, Mohamed's Enterprise, W. Golden, Dino's Investments, and Pandit Service Station.
Events listed for 'dirt bike riders are:
Three 'professional' races in the 125CC category, each having a cash prize of $65,000.
Three 'novices' races in the 125CC category, each having a cash prize of $45,000.
Two 'quads' races, each with a cash prize of $50,000.
Two 'bush bike' races (four wheels) each with a cash prize of $30,000.
Two races for 'four-stroke' 125CC vehicles, each with a cash prize of $30,000.
One race for 'side by side' vehicles, which would have a cash prize of $65,000
One 'Open' race for two- wheel bikes, which would have a cash prize of $65,000
BMX cycle races
Girls' under-12: 1st prize one BMX cycle
Boys' under-10: 1st prize one BMX cycle
Boys' under-13: 1st prize one BMX cycle
Boys' under-15: 1st prize one BMX cycle