The Telecommunications giant GTT has embraced Fruta Conquerors Football Club's Youth Football summer camp by donating 20 footballs to the club in a small handing over ceremony to the Secretary of the football club, Daniel Thomas. The camp began on July 10 and is scheduled to end on July 28.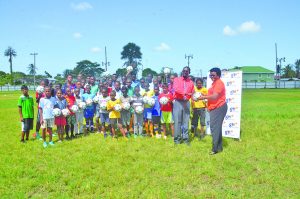 The company's Public Relations Officer (PRO) Allison Parker said that GTT have always had a good relationship with the football club and after the Conquerors sent a request for six footballs, the GTT decided to donate 20 footballs instead. Parker noted that the donation of the footballs would not be the only way that GTT will help the club but hinted at further involvement during the course of the camp. Meanwhile Thomas, who is also the facilitator of the Youth camp noted that it is the club's objective to gainfully occupy the youths of the surrounding community during the school break. The programme Thomas explained is not just focused on pure football drills but also on academics with remedial lessons in English and Mathematics being taught during the morning sessions.
He added that two volunteer teach the children but are paid a stipend by the club. In addition lecturers from the University of Guyana will be holding interactive sessions. The Youth Camp initiative which was started by the current Guyana Football Federation (GFF) President Wayne Forde 10 years ago, was taken over by Thomas in 2012.
Thomas said that while the programme started off humbly, the club is now able to provide hot meals for the children through assistance from the National Sports Commission (NSC) and Scotia Bank.
The participants of the camp number over 50 and are merely asked to walk with their gear as no fee is demanded.