…agriculture, trade, infrastructure among issues discussed
President Dr Irfaan Ali and Prime Minister of Barbados Mia Amor Mottley travelled to northern Brazil on Sunday to meet with officials of the State of Roraima in order to advance trilateral relations.
According to the Office of the President in Georgetown, the two Heads of State met with the Governor of Roraima, Antonio Denarium, at the Governor's Palace in Boa Vista.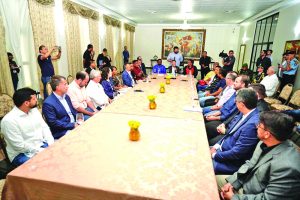 During the meeting, discussions focused on agriculture, trade, infrastructure and strengthening bilateral relations between Guyana, Barbados and the State of Roraima.
President Ali was accompanied by Agriculture Minister Zulfikar Mustapha; and Tourism, Industry and Commerce Minister Oneidge Walrond. Senior officials of the Barbadian Government were also at the meeting.
President Ali and Prime Minister Mottley flew over to Boa Vista from Trinidad and Tobago, where they attended the Twin Island Republic's second Agri-Investment Forum and Expo.
The State of Roraima is bordering Lethem in the Upper Takutu-Upper Essequibo region of Guyana.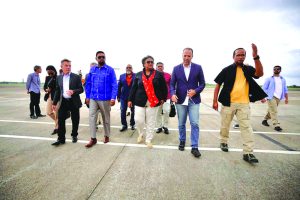 Back in May, President Ali had disclosed that Guyana, which presently chairs the Caribbean Community Ministerial Task Force on Food Security, will be lobbying Caricom on bringing the Brazilian State of Roraima on board its 25 by 25 initiative, that is, reducing the region's high food import bill by 25 per cent by 2025.
This was one of the outcomes of the inaugural Agri-Investment Forum and Expo held in Georgetown and brought together industry players from all across the region in May.
Upon the completion of the event, President Ali led a group of Caricom Leaders to meet with the business community from Roraima during a Caribbean-Roraima Investors Luncheon at the Santa Fé farm in North Rupununi, Lethem.
The Head of State had noted that there is much that the Brazilian state can contribute towards the Region's push to reach its food import bill targets.
"We're talking here about a state that is producing onion, soya oil, wheat. All the grains that we can utilise in Caricom for our food import needs. All the fruits that can go into our productive sector. But more importantly, everything they do on their side can be done on our side first. They have offered their technology, their investments, their partnership and their commitment."
"In exchange, we have committed to the Heads, a proposal that the State of Roraima be part of the Ministerial Task Force on agriculture from Caricom. We have invited them to be part of the forum in Trinidad and Tobago in August and they are going to be a part of that forum," President Ali had noted.
In addition to attending Trinidad's Agri-Investment Forum & Expo, Caricom leaders last week held follow-up discussions on a number of issues including advancements of the 25 by 25 initiative.
Meanwhile, during the engagement back in May, President Ali had said that the State of Roraima, including the business community, wants to be integrated more into the vision of Caricom, when it comes to the agricultural sector.
The Guyanese leader was of the view that there are numerous areas for opportunities when it comes to collaboration with the State of Roraima, including in the area of cattle rearing. In fact, he had noted that in one year, production of angus beef could be doubled throughout the Region.
"They want to be integrated not only from a supply perspective, but from a productive perspective. They want to be integrated into this vision of Caricom. They want to be part of this and I think it is an excellent opportunity for a win-win," President Ali had stated.
The Brazilian investors, who represent half of the production capacity of the State of Roraima, made presentations on their capacity and capabilities, and spoke of their intentions to collaborate with Guyana and the wider Caricom Region in agriculture.
Further, during that meeting in May, the Government of Guyana, through the Agriculture Ministry signed a Memorandum of Understanding with the State of Roraima to enhance agriculture through research and development.
The regional heads who participated in that engagement were T&T Prime Minister Dr Keith Rowley, Prime Minister of Antigua and Barbuda Gaston Browne, and the then Premier of Montserrat, Joseph Farrell, among other regional officials.
Roraima is one of 26 states in Brazil and covers an area of approximately 86,300 square miles. (G8)