…reiterates top-10 trade barriers will be "attacked"
The COVID-19 pandemic has exacerbated existing inequalities within the Caribbean region, including food security, with many households observing higher than usual food prices.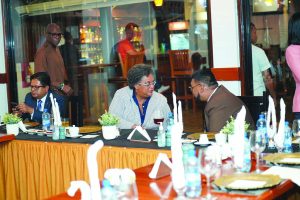 To this end, Prime Minister of Barbados Mia Mottley believes that it is very critical that affordable, safe, and nutritious food is made available to the people of the region as a matter of urgency.
PM Mottley expressed these sentiments on Friday during a press conference at the inaugural Agri-Investment Forum and Expo at the Arthur Chung Conference Centre, Liliendaal, Greater Georgetown.
She placed the spotlight on the region's food transport issues and removal of barriers to trade in agriculture, noting that the latter will be given priority at the upcoming Caricom Heads of Government meeting.
She reminded that the Caribbean has gone through a very difficult time in the last two years because of the pandemic, climate change issues, inflationary pressures as a result of the interruption in the global supply chain, and worst of all Russia's invasion of Ukraine. According to the Barbadian leader, the region has seen a level of inflation with food that is really unbearable to most people, especially those who are vulnerable.
Concrete measures
As such, she noted, "We are therefore trying to see how we can be less dependent on the world while at the same time reducing foreign exchange expenditure for us…which is compromised largely because of our inability to earn through COVID with those who depend on tourism."
She added that the "concrete measures" being taken to move forward include: specific investment plans; special opportunities for financing those investment plans; and partnering with the private sector, in particular, the importers and distributors. Importers and distributors, Mottley added, need to recognise that the region needs an efficient supply chain that is safe and secure and not necessarily one that is driven only by imports. She, however, lamented that there is still an obstacle—food transportation. To make her point, she explained that Guyana, Suriname, and Belize as countries on the mainland, and with their vastness, have tremendous potential to help produce at scale, unlike small islands. She, however, pointed out, "With all that you are producing, if you can't get it to the island chain in a manner that is quick and affordable, then it is of no use."
Mottley said that it is cheaper to send produce outside of the Caribbean than within the region.
Food terminal
Against this backdrop, she said that the imminent Guyana-Barbados food terminal "will allow us to move food from whichever countries are doing mass production…"
"So, we have to perfect the logistics and we believe that that investment in the food terminal will be critical. We have the plans and numbers that we are working on. I am to convene a meeting week after next, not just on that project but all of the projects with the financial institutions to make sure that we can have ready and affordable access to capital to be able to help State entities or private sector individuals, be able to expand production and be able to undertake logistics."
The Prime Minister revealed that the Caribbean Development Bank (CDB) along with other countries have agreed to take to lead in transport arrangements to finally see how we can resolve this, especially for the movement of produce.
She added, "The urgency of what we are facing with the inflation, particularly as it relates to food, means that everybody knows that we have to get on board and get this right because what is at stake is people's and family's ability to stay above the crisis and be able to feed themselves." PM Mottley posited that there are opportunities for air transport especially for perishable goods but those mechanisms need to be put in place. She said, too, that once the region can grow/produce its own food and make it cheaper, it will be a "win, win".
Trade barriers
Meanwhile, she emphasised that the trade barriers have been very significant.
"There are too many stories of containers of produce being left at ports to spoil and it has happened in too many countries or restrictions because of failure to comply with sanitary and phytosanitary conditions. We need to be very practical now, we can't move produce from country to country if people are going to lose their investment…" Prime Minister Mottley stressed.
She added, "We, therefore, hope that at the next Heads of Government meeting which is in about two months' time, between now and then, and then immediately after, that we can go and sit down without all of the fanfare… and just attack the top barriers in the same way that President [Dr Irfaan] Ali has done for us… a clear framework to take the top 10 items that we want to be able to have total capacity to produce within the region without importing…"