Geared at overhauling the public sector through the use of information technology and other modernised approaches, Guyana has initiated efforts to ensure it achieves the Sustainable Development Goals.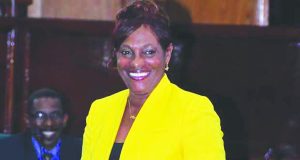 The Public Service Ministry partnered with several international organisations for a virtual workshop on "Innovation, Digital Government and Changing Mindsets for Public Sector Transformation in Guyana to Achieve the Sustainable Development Goals".
The objective was to develop an understanding of the key role of the public administration in implementing the SDGs and the need for changing mindsets. This forum also allowed stakeholders to explore the role of innovation in public sector transformation and Guyana's vision to undertake this target.
Government Advisor, Dr Jennifer Westford said this is a turning point for transformation and will result in a public sector that can keep pace with the fast-growing economy. She lamented that public sector services cannot continue in an "archaic or lackadaisical" way.
"Guyana is undoubtedly a breath-taking country, which possesses every enviable resource one could think of but even so, our society is not as advanced and modernised as we would want it to be. It is, therefore, time to breathe life into the public sector and begin implementing policies and programmes that are modern."
Westford added, "There is much to be done, starting with the creation of a comprehensive, strategic plan…The services that we offer must be modern and easily accessible. Our systems must no longer frustrate our people but alleviate their daily worries and challenges".
Executive Director of the Caribbean Centre for Development Administration (CARICAD), Devon Rowe said improvement requires a change in mindset.
"The mindset of the public service must change and one important change is to move from a total focus on rules and procedures towards an equal focus on results. We're all aware that there is still an implementation deficit in our region. Improvement requires a change in mindset. Our behaviours and organisational cultures need to change."
Regional Coordinator and Lead Technical Advisor on ICT at Caricom, Jennifer Briton identified that from surveys conducted over the past two years, many respondents flagged Government's leadership as an important catalyst in responding to the digital ecosystem that is dawning.
According to her, Guyana has already understood the benefits of integration and can share its successes with the region.
"We anticipate that Guyana will continue to show the leadership that it has always shown through this initiative and all other areas that are related to transformation and innovation. Guyana is on the cusp of a brand-new economic model and landscape. That requires additional attention from senior public servants."
Partners in this mechanism include the Caribbean Community (Caricom), the United Nations, and the Caribbean Centre for Development Administration (CARICAD).