President David Granger on Wednesday accredited a new Indian High Commissioner to Guyana, Dr K J Srinivasa, who has committed to further strengthen bilateral ties between the two countries.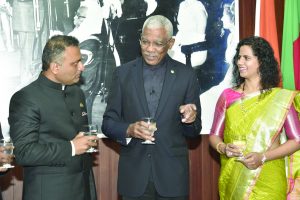 The Indian diplomat handed over his letters of credence to President Granger at the Ministry of the Presidency.
After accepting the credentials, the Guyanese Head of State reflected on the already strong relationship the two countries share in the 53 years since the establishment of diplomatic ties.
This, he noted, continues to be enhanced with high-level contacts between officials of the two states such as during his visit to New Delhi in March 2018 for the First Summit of the International Solar Alliance (ISA). Guyana had signed and ratified the Framework Agreement of the ISA, which he recommitted to during his state visit.
"Guyana looks to continue its cooperation with India in pursuit of its goal of becoming a solar state – a key component of Guyana's Green State Development Strategy. The Strategy – our road map towards becoming a green state – emphasises the protection of our environment, the preservation of our biodiversity, the promotion of renewable energy and the adoption of practical measures to guarantee climate adaptation. Guyana looks forward to intensifying its cooperation with India during your tenure as High Commissioner," the President said.
Meanwhile, the newly accredited Indian High Commissioner, Dr Srinivasa, also recognised the consistent engagement between officials from the two countries. He further acknowledged the immense opportunities that exist for both Guyana and India to further enhance bilateral relations, especially in the areas of agriculture and food processing, oil and gas, renewable sources of energy, forestry, drug and pharmaceuticals, health infrastructure, education, among others.
"India is committed to Guyana's overall development and India's participation in the development process in various sectors of Guyana's economy would continue which would help in bring[ing] the two countries closer. Guyana's leading role in environmental issues and low carbon development strategy has been recognised all over the world and India would like to benefit from Guyana's experience in this field," the newly accredited High Commissioner noted.
Dr Srinivasa went on to highlight that the two countries, as Commonwealth members, share common views on many international issues facing humanity, particularly in the United Nations (UN) and other international organisations. To this end, he expressed gratitude for the support Guyana has given in various elections to the UN bodies while noting that India is counting on this continued support in its claim for permanent membership of the expanded Security Council.
"I am deeply aware of the greatest responsibility bestowed on me and it would be my endeavour to take our bilateral relations including trade on a higher trajectory through continued engagement and solid interactions between the business communities of the two countries," the Indian diplomat noted.
Dr Srinivasa, whose last posting was in South Africa, has replaced former High Commissioner, Venekatachalam Mahalingam, who recently concluded a five year tenure here.