– UK professor warns during oil & gas lecture
Although the Government is making efforts to ensure that the necessary mechanisms are put in place to assist the country to reap the full benefits of the emerging oil and gas sector, a university professor has warned that Guyana could encounter the 'resource curse' if stringent measures are not taken.
In order to avoid such a curse, Guyana must implement a robust legal and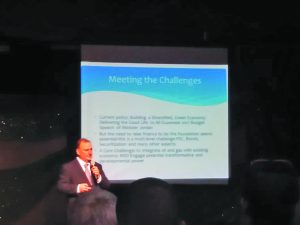 institutional infrastructure, which is strong and specialised for the oil and gas industry, and one that will make sure that the environmental situation is one where oil companies have every reason to do the right thing.
This is according to Director of the Centre of Commercial Law at University of Reading, England, Professor Jorge Guira, who addressed stakeholders at his lecture session titled, "Paradise found in Guyana? Meeting the challenges of oil and gas exploration and production", at the Theatre Guild Playhouse in Kingston on Thursday.
The lecture was organised by the Natural Resources Ministry in collaboration with the University of Guyana.
The UK professor pointed out that in some cases, natural resource revenues have been linked to slow economic growth rates, inequality, and poverty. One culprit may be the so-called Dutch disease, whereby resource revenues raise a country's exchange rate, hurting competitiveness in non-resource sectors.
Other factors may also include the volatility associated with commodity prices, which can have especially negative impacts on weak state economies, and the under-development of agricultural and manufacturing sectors during boom periods in resource-based economies.
Guira suggested that even when oil abundance produces high growth, it often benefits only a few allegedly corrupt elites rather than translating into higher living standards for most of the population.
In considering long-term plans, Professor Guira said there was also the importance of having a local content dimension, from oil companies, in order to provide bases for the development of the country.
He stressed that the parties giving the Government advice in dealing with its oil wealth may have different self-interest and urged it to be aware of those interests.
Professor Guira noted that the Government was bound to face several challenges in this new sector, but it should try to enforce greater levels of transparency, accountability and sustainability, in order to succeed.
He also suggested that Guyana developed stronger links with Trinidad and Tobago and other Caribbean countries, and said that the border controversy with neighbouring Venezuela should also be addressed.
Touching on another key point, the professor said, in order for the Sovereign Wealth Fund to be effective, it must be checked with accountability and strong oversight to preserve capital, while capping spending. Instead, Government should, according to him, invest rather than consume.
Professor Guira also stressed that while Guyana's oil find, as well as the projected earnings, is monumental, Government needed to take the fluctuation in oil prices into consideration.
He also urged that although oil companies were making humongous investments, Guyana also needed to invest in capacity building in order to drive the process in an intelligent way.
Recently, Government was criticised over the issue of transparency with respect to the emerging oil and gas sector by Control Risks Senior Analyst Raul Gallegos.
Gallegos was addressing an audience in California at the XXVI La Jolla Energy Conference during a plenary session on "Latin America's Upstream Prospects and Outlook".
Gallegos, a former journalist and an expert on Venezuela, told the gathering of investors, thought leaders and Government officials that the problem with Guyana was the issue of transparency.
He added that over the past few months, he and his team spent a considerable amount of time "patching" up a little information on what the Guyana Government planned to do with the revenues from the oil sector. The Government, he said, "still cannot figure it out", making reference to the contract and plans for the revenue streaming in from oil.
Guyana is all set to become a top oil-producing country following massive finds by a major international oil companies.