UN Human Rights Council
Earlier this week, Guyana faced the United Nations Human Rights Council, where the country was exhorted by various countries to improve on certain aspects of its human rights record, including in the area of Indigenous land rights.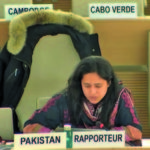 During Guyana's 3rd review, which was held in Geneva, Switzerland, Guyana was represented by its permanent representative to the UN, Ambassador John Deep Ford. He presented a report on Guyana's human rights efforts, after which various countries offered their comments.
In her comments, Pakistan's representative Fareena Arshad acknowledged the Green State Development Strategy (GSDS), which replaced the Low Carbon Development Strategy (LCDS) started by the previous administration.
Arshad also noted the importance of efforts to protect Indigenous people and promote social cohesion. However, Arshad emphasised the need for Guyana to continue to promote gender equality and the delivery of services.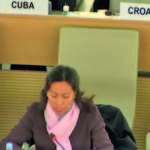 "Pakistan recommends Guyana continue its reforms in health and education, to enhance access to quality services. Two, continue to take steps for the promotion of gender equality and empowerment of women."
Representative Chona Idul-Desimpele, who spoke on behalf of the Philippines, also acknowledged the progress that has been made in various human rights areas. Among the country's recommendations, however, was for Guyana to intensify efforts to protect the land rights of Indigenous people.
"In a constructive spirit, the Philippines presents the following recommendations for considerations for Guyana: continue to ensure that its climate change adaptation and disaster risk reduction measures pay due consideration to vulnerable sectors including women, persons with disabilities and Indigenous peoples."
"Further intensify the conduct of capacity building for relevant gender-sensitive handling of victims of trafficking and continue to strengthen support services for survivors of trafficking. Continue to take further steps to protect the land rights of Indigenous peoples," she also said. In his response to the two women, Ambassador Ford alluded to the progress Guyana has made when it comes to these areas.
Dropping the ball
The Government has long been criticised for dropping the ball when it comes to titling Indigenous land, an important human rights issue, despite money being available for it from the LCDS that the People's Progressive Party (PPP) left behind.
It was only in September 2019, days after it was heavily criticised over its handling of land titles and extensions within Guyana's Indigenous community by the Opposition, that Government announced that eight communities will soon be receiving either their title certificates or extensions, with Cabinet having recently approved the absolute grants under the Amerindian Land Titling (ALT) Project, which is funded by the Guyana REDD+ Investment Fund (GRIF) to the tune of US$10.7 million.
Grants were approved for the establishment of legal boundaries in the communities of Parabaru, Region Nine (Upper Takutu-Essequibo); Rockstone, Region 10 (Upper Demerara-Berbice), and in Region Seven (Cuyuni-Mazaruni), Tasserene and Kangaruma.
Meanwhile, existing communities which had their grants approved for extensions are Mainstay/Whyaka, Mashabo and Capoey on the Essequibo Coast, Region Two (Pomeroon-Supenaam).
The Amerindian Act of 2006 states that a village may apply in writing to the Minister (of Indigenous Peoples' Affairs) in order to receive a grant of State lands as an extension to its village lands.
Furthermore, Indigenous communities can apply in writing to the subject Minister provided that it has been in existence for over 25 years at the time of application and for the immediately preceding five years, it comprises at least 150 persons among others.
However, the Act does not require a Village Improvement Plan for the processing or granting of land extensions to any Indigenous village or community. This is in contradiction of the excuse proffered by the Government for the slow progress in land titling over the years.