General and Regional Elections
…urges Guyanese to check OLE
With thousands of changes made to the Revised List of Electors (RLE) and the certification of the Official List of Electors (OLE) completed, Guyanese should verify that their information is included and corrected so that they are not disenfranchised come Elections Day – March 2.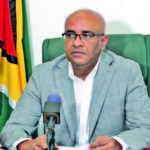 This is according to the Opposition Leader and General Secretary of the People's Progressive Party/ Civic (PPP/C), Bharrat Jagdeo, who on Thursday urged that all Guyanese who are eligible to vote to make a special effort to double-check their information.
"I urge all Guyanese to do the same; don't take anything for granted. Please ensure that you check your names on the OLE and should you have any difficulties, please bring this to our attention immediately. There are several hotlines for that to happen so we will be paying close attention to that issue," the Opposition Leader said.
Jagdeo explained that the PPP/C will commence its own scrutiny of the OLE as soon as it is in receipt of a copy, which is expected to be provided within days.
"We believe now that the OLE now has been certified and so we will get a copy of that and we will check again, the Party will check. I urge the other Parties to ensure that those changes did not disenfranchise people and only people who were on the Preliminary List of Electors (PLE) or those who had registered through the Claims and Objections – new registrants, and the 16,000 odd new registrants from the house-to-house— those are the only names on the OLE…and they are in the right place".
He also pointed out that GECOM has undertaken to inform by registered post every person whose particulars have been changed, and that this is a requirement of the law.
He added that the PPP/C will also conduct "spot checks" to confirm whether persons have received their registered posts.
On Tuesday, Commissioners from the Guyana Elections Commission (GECOM) confirmed that the OLE was completed, with some 661,028 eligible voters. Government-nominated Commissioner Vincent Alexander informed the media that the list was ready, although he noted that 661,028 was an unusually high number.
In an invited comment, Opposition-nominated GECOM Commissioner Sase Gunraj said that this growth in eligible voters is normal in the case of continuous registration. He further noted that attempts to discredit the list constitute attempts to undermine the process at GECOM.
In 2015, when GECOM had published the OLE ahead of those elections, the total number of voters was 570,787.
New registrants
Over 16,000 new registrants were recorded during the House-to-House (H2H) exercise that ran from July 20 to August 31, 2019. This number was subsequently included on the RLE. However, the Opposition – PPP – has always contended that the H2H exercise was largely unsupervised and would produce flawed results.
Indeed, the party subsequently found that many of the persons listed as new registrants are either dead or were previously registered.
It had previously been announced that over 6500 persons of the 16,863 new registrants were not confirmed during the five-day field verification exercise which concluded on December 22, 2019.
Some 370,000 registrations obtained during the scrapped $3 billion H2H exercise were sent overseas to be cross-matched with the National Register of Registrants Database (NRRD) in order to filter out the duplicates.