The Eighth Annual Beauty Fashion Award Extravaganza was hosted in Florida at the Orangebrook Golf Country Club in a very sophisticated atmosphere.
Guyanese fashion icon Sonia Noel was the recipient of the high achievers' award for her contribution to the fashion industry.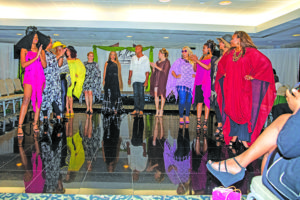 Dr Dupre opened with a power prayer. Dr M Tina has 25+ years' experience as a professional speaker, author of five books, and creator of other resources for personal and professional growth and development.
The evening featured demonstrations on how to achieve the beauty outside: how to grow healthy hair, how to achieve radiant and flawless skin, grooming tips for modern men and hot new fashion trends, etc, while Tatiana Jimenez was excellent in her presentation on the nutritional foods for a healthy body.
The event also featured five beautiful and captivating collections and our own dynamic philanthropist and style maven. Noel's collection opened the fashion segment.
"Noel is a doer and has contributed to so many lives. I always admire people who go above and beyond to accomplish their goals; [she] needed to be recognised," Wilma Mulcare stated.
Mulcare hails from the Caribbean and has been living in the United States for decades, mastering her craft which placed her at the top of her game.
"The list of things I still need to achieve is long, but I am thankful for an organisation to acknowledge that I am doing it, no matter what. I am sharing this award with all the people who don't believe that they are enough and struggling to feel comfortable outside their comfort zones. As the Bible said 'stand firm on your shaky legs'," Noel declared.
Her first book "Living With Intention" was one of the door prizes along with "Power Of The Soil" by another Guyanese author.
Noel was in Florida waiting the contingent of women who are participating in Florida International Trade and Cultural Expo (FITCE). Sixty countries will be participating and some of the participants from the Women in Business Expo will be exhibiting their products to explore new markets and partnerships.
The other exhibitors are Sandra Craig – SS Natural Flavours; Leisa Gibson – Leisa Salon n Beauty Supplies; Carolyn Caesar Murray – Harmony Inn and Secret Villa; Melba La Gadoue – Intricate Creations; Debbie Argyle – Scented Candles and Chrisdan Enterprises. Rebecca Abdool of Becky's Blessing and Simone Peters of Country West Style will have their products on display.
"I attended FITCE and immediately become intentional about having some of the exhibitors join me for an experience to explore possibilities and now it is a reality," Noel stated.