Effect of COVID-19 on travel…
-40 days and counting since…
By Brandon Corlette
The long wait to return home for veteran Guyanese Sports Journalist John Ramsingh continues, and like many other Guyanese stuck abroad, he finds this simply frustrating.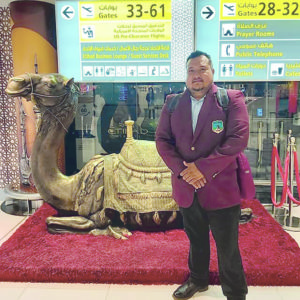 Having departed Guyana since March 5, 2020 to go to Cape Town, South Africa to perform the role of Media Manager of the Over-50 World Cup Team, Ramsingh has since been caught in the global lockdown brought on by the novel coronavirus pandemic, and on May 2, expressed his frustration in a post on his Facebook page.
"The US Government is responsible for their citizens, so they are sending yet another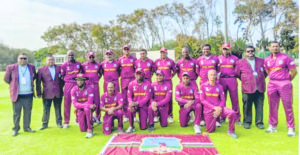 airline to Guyana on Monday May 4 to evacuate Americans. The Eastern Airlines flight will be leaving Miami International yet again with no passengers. This hurts. I have no ties to any other country, yet I remain locked out of the motherland since March 19. Is this legal? Is this a violation of my human rights? I am at the mercy of another government. I feel betrayed."
Appearing on a telephone interview last week on the Mason Guest Radio Show, Ramsingh shared his experience being in unfamiliar territory. He said the Over-50 tournament was cancelled on March 15, and the team was trying to make its exit since then.
"That was the instruction from the organisers, and we left on March 18 but we did not arrive in the USA until a day later, March 19.
"Unfortunately, I was trying to get to Guyana, but the airports in Guyana were closed the day before. I have a close friend living in Boston, Massachusetts, so I took the opportunity to go stay with him for a few days," Ramsingh explained.
He added that the airport was reopened in Guyana on April 1. "So I thought this would be pretty much like a vacation for me, so I went down by my friend. Just as we were approaching April 1, the Guyana Government took a decision to extend that closure to May 1, and recently into May 3″, Ramsingh detailed.
He noted that it has been a long isolation, "but I have been very safe with my friend, who was born in Guyana. I have been very much welcomed here, and I am monitoring what's happening (in) Guyana. I sent a few emails, gotten a few responses out of Guyana.
"They are working on evacuation plans, but Guyanese are scattered around the world that are willing to go back home right now. I am awaiting my final boarding pass to get back in Guyana," Ramsingh posited on the Mason and Guest show.
This popular Guyanese media manager for the Guyana Amazon Warriors (GAW), as the media manager of the Over-50 West Indies team, had the luxury of performing commentaries on live streams, write articles, prepare match summaries, engage in photography, and have a say in team selection.
The West Indies Over-50 team was comprised of players whose roots are in the Caribbean. These players were not required to play first-class or international cricket in the past.