President David Granger has pledged continued recognition and elevation of members of the legal fraternity.
The Head of State was at the time speaking at a ceremony where five lawyers were presented with their Instruments of Commission, appointing them Senior Counsels.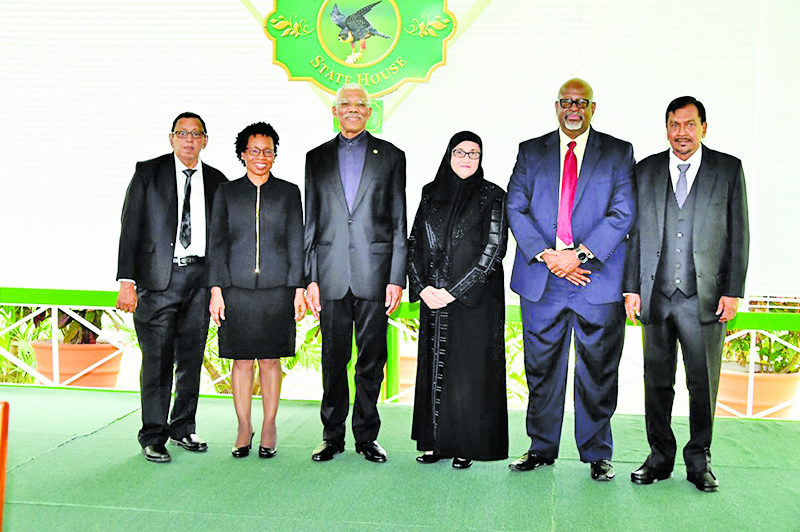 "The conferral of the honour of Senior Counsel has become balanced. Three women, who are 'learned in the law', were conferred with the title in 2017 – the first time in our history that women were so recognised. Another outstanding female attorney-at law was appointed a Senior Counsel last year. This year, we honour two eminent female members of the profession," the President stated.
The two female lawyers, who were elevated to senior counsel were Director of Public Prosecutions (DPP) Shalimar Ali-Hack and Carole James-Boston. They, along with Stephen Fraser, Rajendra Poonai and Robert Ramcharran, were announced as Senior Counsels on December 31, 2018. Their appointments were made effective from January 1, 2019.
Addressing the gathering at Wednesday's ceremony, President Granger told the new Senior Counsels that the parchment they received may fade with age, but the honour that it represents will fortify their profession.
"Your preferment will enrich your practice with the passage of time," he said.
According to the Head of State, the conferral of the Senior Counsel title is not a personal favour or political reward but is done on the basis of merit and is uncontaminated by arbitrariness or capriciousness.
"The eminent women and men before you today deserve the designation of Senior Counsel by virtue of their erudition, experience and expertise," he asserted.
President Granger further stated that it is his duty to ensure that the conferment of the title of Senior Counsel would be made annually, with regularity and consistency. Failure to confer these awards, he added, would constitute a dereliction of these duties.
This year's conferral of silk is the third such appointment done by President Granger. In 2017, the Head of State appointed Neil Boston, Charles Fung-A-Fat, Justice Roxane George, Llewelyn John, Rafiq Turhan Khan, Vidyanand Persaud, Rosalie Robertson, Justice Claudette Singh, and Legal Affairs Minister and Attorney General Basil Williams, as Senior Counsel.
The following year, Kalam Azad Juman-Yassin, Fitz Le Roy Peters, Andrew Pollard and Josephine Whitehead were conferred with silk.
Prior to these appointments, the last conferral of silk was done in 1996.