…as 44th Medex programme kicks off
The Health Ministry on Thursday held the orientation ceremony for the first batch of students enrolled in the 44th Medical Extension (Medex) programme for the year 2021-2025.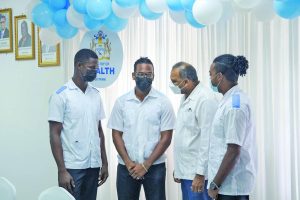 The orientation saw a total of 36 students who would be trained as Alternative Pathway Medex – students that do not have a medical educational background.
Health Minister Dr Frank Anthony, in addressing the students, informed them, "You are joining the Ministry of Health in a very interesting time, because, in the next couple of years, we are going to unroll a lot of developments in the health sector – infrastructure developments. We are going to look at how we improve imaging, meaning, the new techniques that can be used to diagnose disease conditions."
Dr Anthony revealed that health education would be one of these students' main duties as Medexes.
"A lot of people in our communities, they have different notions of how you get diseases and why you get it. And therefore, there's a big role for health education, because some of the traditional concepts that people harbour do not necessarily coincide with what we know now in science, and we have to help them to understand. And so you will have a very important role to play in helping people to understand these concepts.
"So, health education is going to be one of your primary functions," the Minister told the students.
Dr. Anthony explained that the courses the students would be engaged in over the next four years would be relevant and necessary in equipping them with the knowledge to educate citizens. He urged them to pay keen attention to their tutors, and encouraged them to read in order to understand the concepts that would be taught.
He highlighted the fact that with the help of the internet, the concepts have been made easier to understand, since there are simplified videos on YouTube, and other various ways in which the concepts are being put over so that they are easily understood.
"Before, you just had to read a book and look at a diagram and say this is it. Now you have the internet, where you can go and YouTube and look at how these things are explained. And by using these audio-visual methods, you can have a better understanding of many of these concepts," the Minister noted.
Further, the Minister told the students they would be playing a pivotal role in the improvement of primary care throughout the ten administrative regions.
"We want to see primary care improved in Guyana. And when we think about primary care, maybe we think of the levels of services that we want to offer… We, as the Ministry, we want to make sure that we can improve primary care," Dr. Anthony stated.
In addressing the students that are from far-flung Amerindian communities, and making reference to the language barrier that is expected to occur within those communities, Dr. Anthony said the students would be trained in English. However, "when you get back in the community and the people are speaking Akawaio or Wai-Wai or Wapishan, sometimes you would need to translate it and break it down, so that you can communicate with that person in the most appropriate way, so that they can understand."
He pointed out that the people would be more receptive of the message once it is properly explained to them.