2018 piracy attacks
…attack originated "in a turf war over fishing grounds" – CoI report
The Commission of Inquiry (CoI) into the 2018 piracy attacks has found that there are some 350 fishing vessels in the Corentyne, Berbice area with unregistered crews or an untrained and unlicensed captain.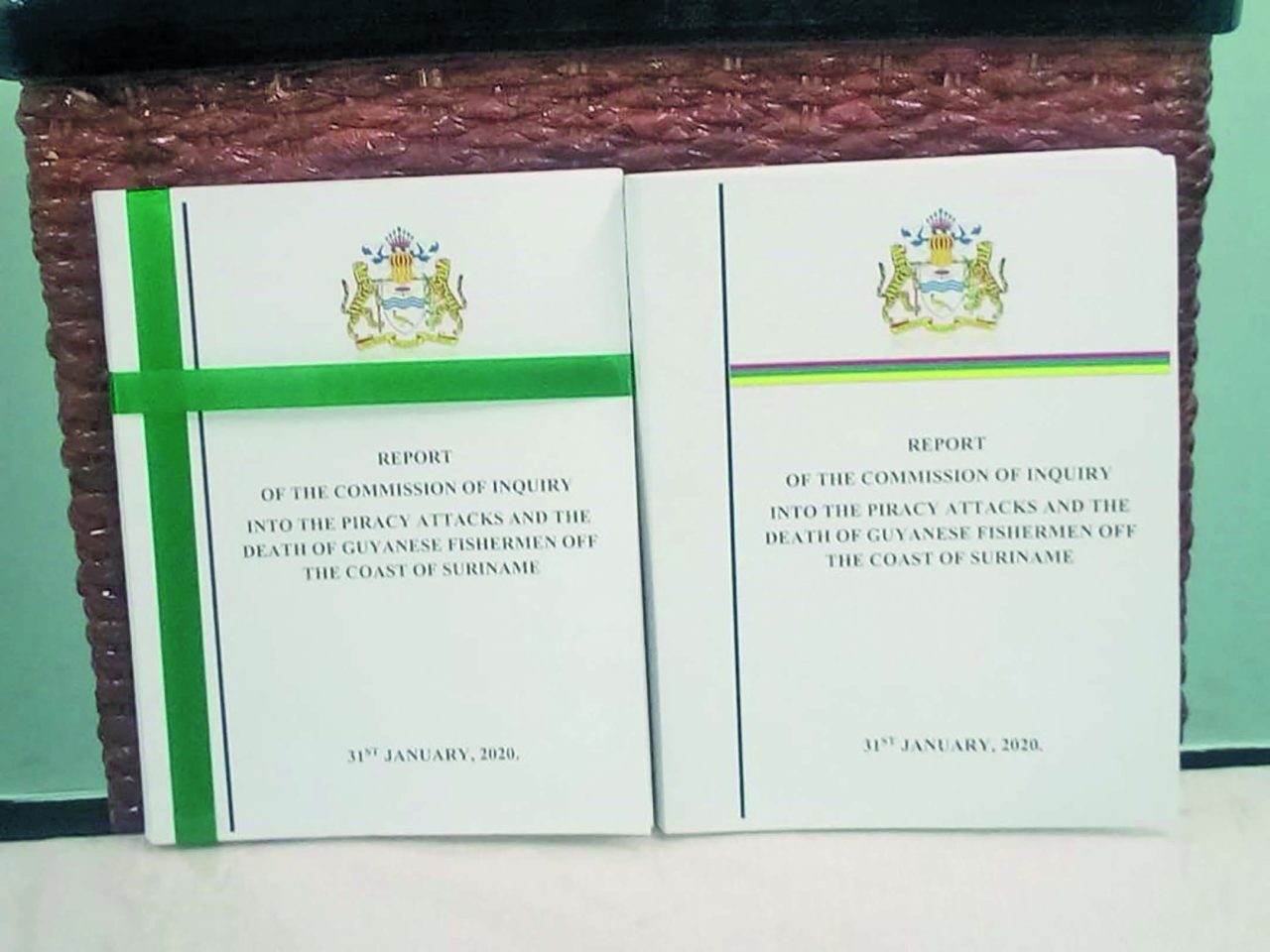 This was revealed by Head of the CoI, Dr Rishee Thakur on Friday when he handed over the report to Minister of State, Dawn Hasting-Williams.
Dr Thakur explained the hundreds of boats operating without the requisite training and documentation does not bode well for the protection of the fisherfolk or their safety at sea. He added that the organisation of fishing has come to reflect the loose and carefree style of a "precariat with little commitment" to its institutional base or its own long-term future of secure and stable employment.
During his remarks on the report, Dr Thakur said that it was determined that the piracy attack was organised, planned, systemic and executed in open confrontation that has its origins in turf wars over fishing grounds.
"And, finally, it was determined on the basis of extensive findings that the piracy was organised, planned, and systematic in its execution, an open confrontation that has its origin in a turf war over fishing grounds," Dr Thakur explained.
On April 27 and 28 and May 1, 2018, five fishing vessels were attacked in two separate instances. A total of 25 fishermen were pounced upon with only six surviving. The bodies of three were recovered and 16 are still missing.
On November 22 last year, seven of 12 suspects of the first case against pirates in Suriname were each handed sentences of 35 years' imprisonment, two were given sentences of 10 and five years in jail while three were acquitted. In Guyana, two of the three cases have been sent to the High Court while a third is awaiting preliminary hearings.
Both the Surinamese and Guyanese authorities are being implored to "resolve the difficulties of the fishermen" since 150 vessels at the No 66 Fishport use the mooring site which is located about a third of a mile from Guyana's border with Suriname.
"We are unable to say what costs are involved and how this will affect the capacity of specific institutions to comply with our recommendations. In our discussions we divided our recommendations into two sets, those we believe that require immediate attention and can be instituted promptly without prohibitive costs, and those that can be engaged but may require long term design and planning," Dr Thakur said.
He further stated that the "present language" that defines the relationship between Guyana's and Suriname's border needs to be upgraded to say "what is happening on the ground" and that "ambiguous euphemism" that does not say anything should be avoided.
Dr Thakur also noted that recommendations include that the work of the International Labour Organisation (ILO) in Fishing Convention 188 and accompanying Recommendation 199 should be immediately recognised.
The report indicated that a Vessel Monitoring System (VMS) as recommended by the Fisheries Act 71:08 should be instituted as well as recommended that the Inter-Agency Piracy Task Force should be transformed into a permanent statutory body.
According to the CoI Head, findings reveal that while the "share system" of payment is attractive for the sums that it brings in, it is also severely constrained by the varied commitments it must meet, including a "drug problem".
"It is estimated that between 60 and 70 per cent of the fishermen at the No 66 Fish Co-op are regular users of hard drugs. Moreover, the responsibility for a first cut and a waiting family adds to the anxiety of an incoming Cabin Cruiser with a poor catch."
The CoI report was officially handed over to the Minister of State, Hastings-Williams, at her office's boardroom located at the Ministry of the Presidency, Shiv Chanderpaul Drive, Georgetown.
Public Security Minister, Khemraj Ramjattan, who was also in attendance, was also given a copy of the document by Dr Thakur.
Minister Hastings-Cummings stated that after her perusal of the document, it will be shared among her Cabinet colleagues for discussions and deliberations on the way forward.