By Brandon Corlette
West Indies lost the three- match Test series 2-1 to England, but for most of the series, the one name many cricket fans and pundits called to feature in the starting XI was Joshua Da Silva.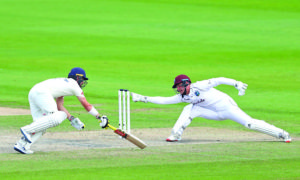 Twenty-two-year-old Joshua Da Silva was the only West Indian to boast a triple-figure score on tour, when he looked in immaculate form in the second warm-up intra-squad match.
In reflecting on his first tour with the West Indies team, Da Silva said he was happy just to be among the squad, and the experience was invaluable.
"In the second game, I did pretty well. I just wanted to bat, and showed the selectors, everybody, I can handle myself and I am one for the future. I just want to keep showing them…what I can do, and put my best foot forward," Da Silva said on the most recent Mason and Guest radio show. He described being in the bio-secure bubble as challenging, but said team harmony kept things together.
Listed in the 10 reserves on the England tour, Da Silva noted that the coaches had one-on-one meetings with each player, and reassessed each performance on tour.
Wicketkeeper-batsman Joshua Da Silva, who is taking great pride in his batting, is currently in another bio-secure bubble with the St Kitts and Nevis Patriots, ahead of the Hero Caribbean Premier League (CPL) tournament which is set to bowl off on August 18. The Trinidad and Tobago Red Force player enjoys batting, and position is of little concern for this talented right-hander.

"Wherever given the opportunity, I want to put my best foot forward to do it, so there is no specific spot I would like to bat," Da Silva explained.
This player is heavily supported by his parents, and is thankful for this. He revealed that his experience in England was very positive, and he is aiming to reap the rewards from that England experience in upcoming first-class seasons and future West Indies tours.
In the most recent Regional 4-Day season in 2020, Da Silva finished the batting charts with 507 runs and an average of 50.70. Only four Caribbean batsmen have accumulated more runs than he has. The runs he piled on included a high score of 113.
Finishing the tournament with
consistency has been Da Silva's unwavering goal.
Before the Regional 4-Day tournament, he rocked the West Indies Emerging Players' (WIEP) outfit, scoring 310 runs at an average of 44, and racking up an unbeaten 103 in the championship campaign for the Emerging Players.