Nine lucky persons on Friday walked away with Honda Wave motorcycles and trips to Barbados, after winning in the grand draw of Industrial Supply of Guyana Inc's (ISG) "Ultra Lubricants Oil N' Go" promotion.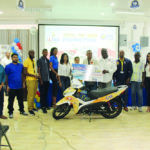 The promotion commenced in March 2019 and was spearheaded and funded by ISG in collaboration with National Petroleum Trinidad (NPT).
According to Operations Manager of ISG, Natasha Ali, the promotion was a way of giving back to its customers.
"The launching of our Oil N' Go promotion provided us with opportunities to give back to both our resellers and our users", she said.
From April 2019 to December 2019, six persons from across the 10 administrative regions won themselves their very own motorcycle valuing over $250,000.
"It must be mentioned that ISG was able to meet the length and breadth of Guyana by its distribution network. We deliver Premium MP ultra-lubricant and greases at premium prices. Our valued customers and resellers contributed significantly to the success of this promotion", she posited.
Nevertheless, two resellers of the company's products won themselves an all-paid-for trip for two to the land of the flying fish, Barbados.
"The first winner … would have started business with us in September 2014 and has since been a long-standing customer. Our second winner would have supported ISG for approximately three years [and] he has been a reseller and mainly seller [of] MP ultra-lubricant all rates", she said.
Just as the ISG customers, the resellers were also required to full out coupons and at the end of the promotion the company would have selected the two winners.
The winners of the Honda Wave motorcycles were Aderemie Adams, winner of the first draw, Raymond Jones, winner of the second draw, Roypen Mootain, winner of the third draw, Daywattie Dhanrajh, fourth draw winner, Latchman Gopaul, the fifth draw winner, and Harrychand Khelaswar, the sixth draw winner.
The resellers who won the fully paid-for trip to Barbados were Shellisa Singh and Richard Singh of R&L Spares and Accessories and Ramdeo Ramkission of Rajin's Auto Paint and Accessories.