By Michelangelo Jacobus
Jamal John took the Reagan Rodrigues Memorial 50-mile cycling event on Sunday while Raul Leal was the winner of the 14th Annual Seven Seas 35-lap race in the National Park on Saturday. The two cyclists reversed positions on both days with John coming second behind Leal on Saturday while the former was second behind John on Sunday.
The resurgent Leal had a time of one hour 17 minutes 56 seconds to win the feature 35-lap event of the Massy Groups of Companies' sponsored 14th annual Seven Seas 11-race cycle programme that was held in the National Park on Saturday.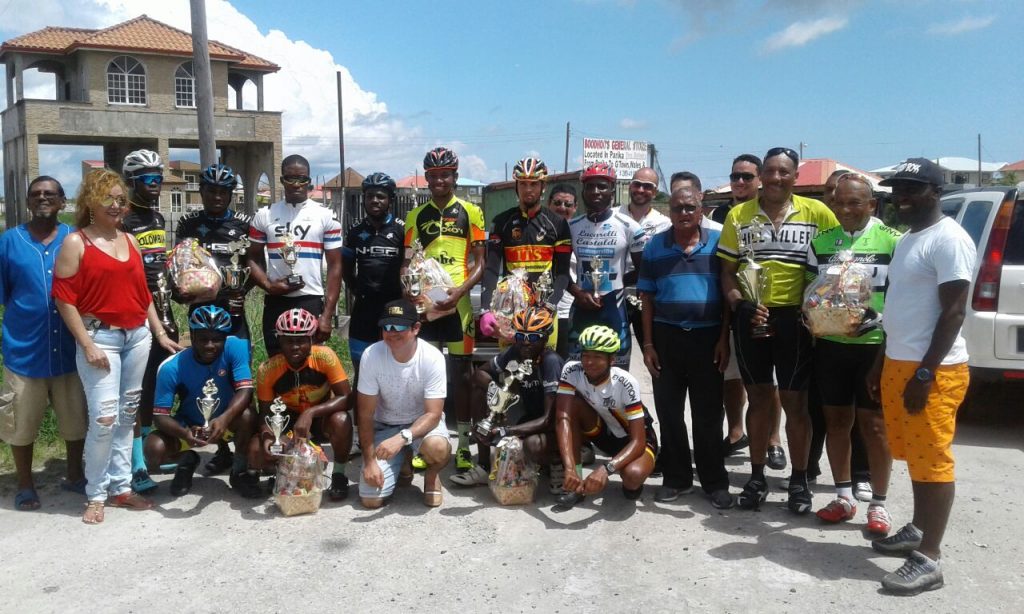 Leal was among a peloton that led the race which featured 30 starters. However, after the 25th lap, Leal, along with Jamaul John, Alonzo Ambrose, Shaquile Agard and Deoraj Garbarran, broke from the pack and never looked back.
With two laps remaining, Leal made his move and distanced himself from the rest of the competition. He received the bell signaling the final lap with approximately 20 metres advantage and went on to win comfortably ahead of Jamal John who outsprinted Agard across the line, while Ambrose settled for fourth, Deoraj Garbarran fifth and Paul DeNobrega sixth respectively.
Garbarran won four prime prizes while John, Ambrose and DeNobrega won one each.
Jonathan Ramsuchit was the winner of the three-lap race for BMX boys and Girls 12-14 years of age.
The veterans' under-50 five-lap event was won by Ian Jackson with Keith Fernandes second and Jaikaran Sukhai third.
Meanwhile, Nigel Duguid took top spot in the 10-lap race for juveniles ahead of Briton John and Marcus Keiler in that order.
On Sunday John triumphed over Leal in the Regan Rodrigues Memorial 50 miles Road Race on the West Coast of Demerara.
The grueling race started at the Wales Police Station at 08:00hrs and proceeded to Bushy Park on the East Bank of Essequibo before finishing at the Demerara Harbour Bridge.
In a replay of Saturday's action John and Leal were among the lead pack along with Christopher Griffith, Shaquel Agard, Paul DeNobrega and Briton John.
However sensible riding and a combination of grit and determination ensured that the youthful John outlasted his competitors.
Leal finished in second while Kemuel Moses was third, Briton John fourth, Christopher Griffith fifth and Shaquel Agard sixth.
The top six riders were all presented with trophies and hampers.