Fifteen-year-old Ethan Lee continues to cement his name in the world of chess after recording yet another win over the weekend, this time at the Wendell Meusa Chess Foundation (WMCF) Kids Tournament.
Lee has been having an extraordinary 2018, being crowned as the Saint Stanislaus and Marian Academy chess champion respectively. The tournament over the weekend was no different with Lee convincingly winning seven out of seven games, similarly to another competition just under two weeks ago.
Given that the likes of Jaden Taylor, Ghansham Allijohn and National Junior Champ Joshua Gopaul were missing from the event, Lee's only challenge came in the form of Rajiv Lee of Queen's College.
In their encounter, both players opted to execute the tactical Sicilian defence.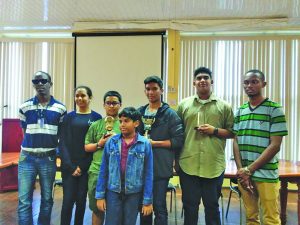 However, being Lee's pet line of defence, the Marian Academy champion managed to outplay the Queen's College student by using his superior knowledge and experience to capitalise on a few errors made by Rajiv.
Meanwhile, Rajiv had some recognition of his own after he played superbly in what was his first mainstream tournament. Aside from his loss to Ethan Lee, Rajiv played to a thrilling draw against young prospect Chelsea Juma. The young man showcased tons of potential and was not expected to perform that well. He made use of aggressive and tactical combinations and as such, he took home the second-place trophy gaining 5.5 points from seven games.
Another promising Marian Academy student took the third position. Odit Rodrigues finished on 4.5 points ahead of 12-year-old female Chelsea Juma of St Stanislaus College. After allowing illness to deter her on the first day of the event, Juma rebounded on day two to showcase her prowess. For her strong finish and eventual best female title, the 12-year-old earned herself one-month free training at the chess foundation. Eleven-year-old Ronan Lee took the youngest player prize when he finished on three points followed by Jonathan Stepney of Marian Academy and Jarrell Troyer of St Stanislaus College.
Juma, along with 14-year-old Sasha Shariff of Marian Academy, is training and gearing up for the Central American and Caribbean (CAC) Women's Championship, which is scheduled to be hosted in Barbados from July 27 to August 3. This will be Guyana's first time having female representatives at such a tournament and these young ladies are expected to grace the list of national players who are ranked by the World Chess Federation (FIDE). These young ladies will be seeking financial assistance to cover their airfare cost and any person who is interested in provided financial assistance can call Mr Meusa (664-0124) or Mrs Jardin (692-2708).