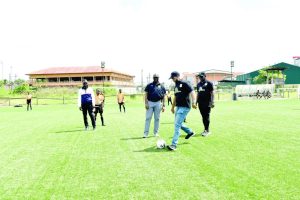 Hundreds of Guyana's under- 13 male footballers were gathered at the Guyana Football Federation's (GFF's) National Training Center (NTC) at Providence, East Bank Demerara (EBD) on Saturday morning for the commencement of the historic Tiger Rentals-sponsored U13 tournament.
First launched back in May of 2022 at the same venue, the developmental league was aimed at adding another key level for the development of youth football in this country. Under brilliant sunshine on Saturday morning, youths from all across the country got their first taste of the competition, but not before the official "march past" was conducted, in which GFF President Wayne Forde discussed the immense possibilities and positives that can be derived from the National Under-13 Boys' Developmental Football League.
"I think it is public knowledge now that my administration has been heavily on youth football, and we've tried very hard to have all the developmental key age-groups sponsored," the GFF President highlighted.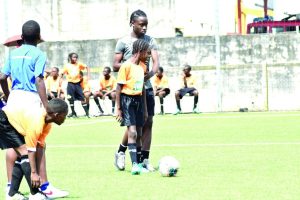 Forde added, "A kid can be training for weeks after weeks, but unless you see that kid in a game situation: when he has to do a little bit more than use his skills; when he has to think; when he has to make decisions; he has to make decisions and learn from it; when he has to make new friends… The good things that football truly represents will take place over the next couple of weeks."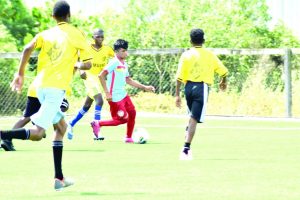 According to Forde, this tournament – in which a mixture of Clubs, Regional member Associations (RMA) and Academy Training Center (ATC) teams would participate – will utilise its whopping $10M investment to bring new practices to the competition.
"This tournament is being supported by Gy$10.6M, which is by far the largest that we've received for an U13 or a youth tournament. And why I'm emphasizing that point is because we're going to be able to bring a lot of new features that we always contemplated but simply could not afford in the past," Forde explained.
He added, "So you're going to be seeing a lot of production coming out of this tournament. The teams are going to be supported more. I believe each team – all of the associations – have already received significant funding in their accounts to help with the preparation of the team."
Aside from the firsts for the under-13 players, the tournament would also be utilising the services of members of the National Under-16 team, who will be acting as match officials for the games.
Following the first whistles at the developmental Under- 13 tournament, Fruta Conquerors and Berbice emerged winners of the first two games held on Saturday.