…as President, PM tour site
As the PPP/C continues to roll out major developmental projects to advance Guyana's infrastructure, a team has been set up to design a plan for a new four-lane highway, linking the West Bank of Demerara to Parika on the East Bank of Essequibo.
This was done on Saturday when President Irfaan Ali and Prime Minister Brigadier (ret'd) Mark Phillips along with a team of Government officials visited the proposed site for the alternative road.
The visiting team comprised of Public Works Ministers, Juan Edghill and Deodat Indar, along with technical officers from the Ministry as well as officials from the Civil Defence Commission (CDC), the Region Three Administration, the regional Private Sector and other local stakeholders.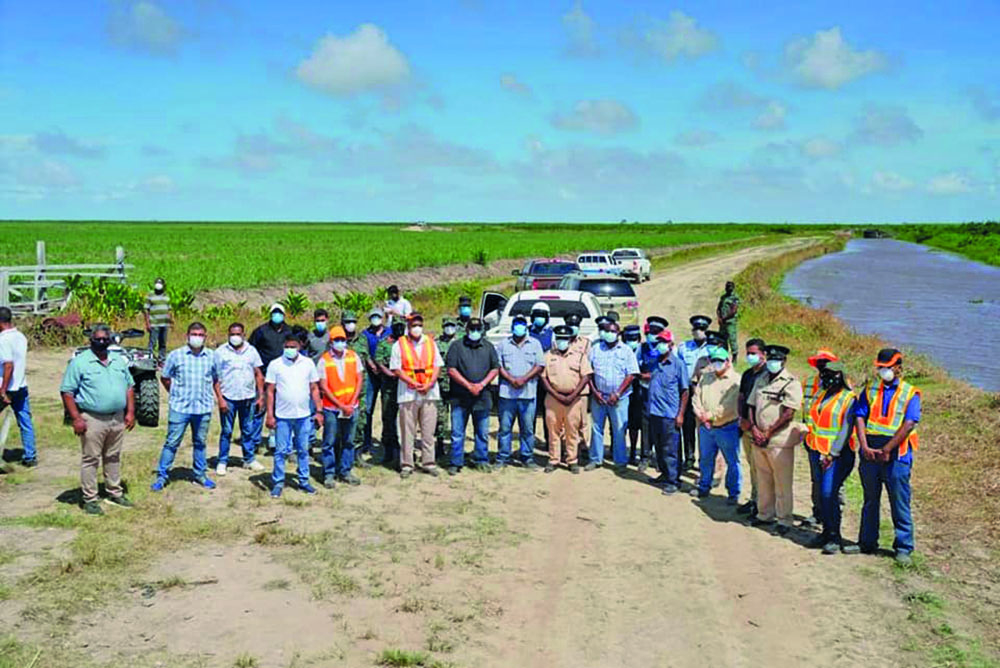 They used Canal Number 1 Polder, WBD, to access the backlands where they examined critical areas along the proposed location before exiting the backlands at De Kinderen, West Coast Demerara.
According to the Head of State, a team of local experts has been established to map out the area and design a plan for the new road. This team will include the engineers, GIS (Geographic Information System) specialists, technical officers from the Public Works Ministry and stakeholders from the region.
He noted that the team will have until April 2021 to complete all the surveys and technical work, and produce the final design plan. In the meantime, the road alignment from WBD to Parika will be graded over the coming weeks.
President Ali disclosed that the new road will run approximately 12 miles. He outlined that the new highway should run as straight as possible to lessen the time it will take to travel to Parika. He further noted that it must also connect to the Del Conte Road Project, which is also currently is the works.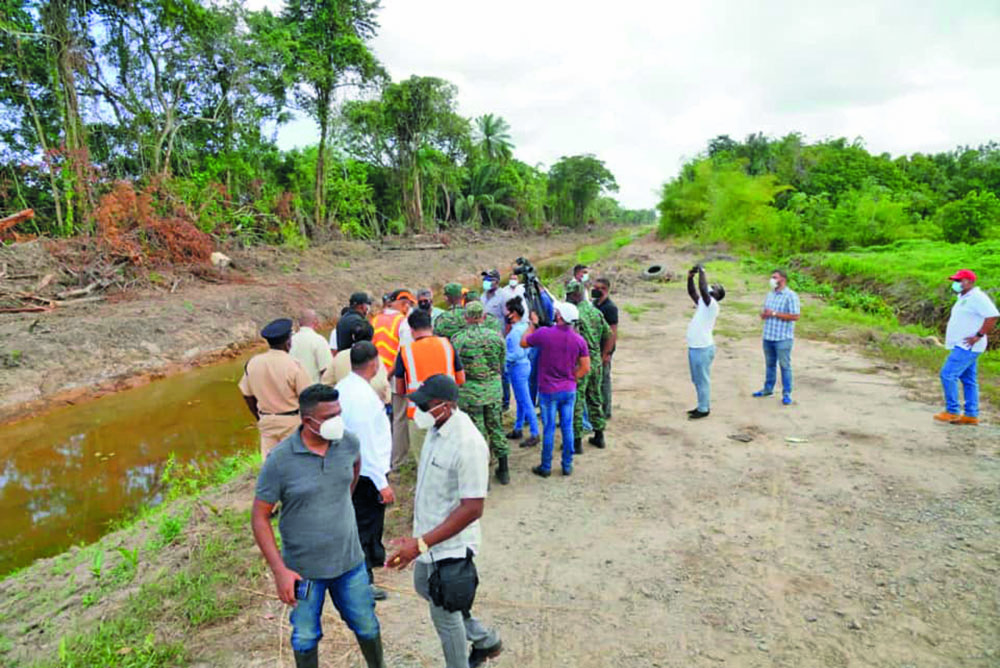 That project will see the construction of an all-weather road corridor from Parika to Bartica, that is, Parika to Goshen; Goshen to Monkey Jump and Monkey Jump to Bartica.
Nevertheless, the new Region Three (Essequibo Islands-West Demerara) highway will also be connected to the new Demerara River Bridge, which will land in the vicinity of La Grange, WBD. Government is looking to construct a four-lane, high-span fixed bridge across the Demerara River from Nandy Park on the East Bank of Demerara to La Grange.
The President explained that the residents of Region Three will not be the only ones to benefit from this new road project but the entire country as more connections will be made.
During the elections campaign, he added, the PPP/C spoke about transformational projects and Region Three is just one of the areas that is pegged for major transformation.
"Transformation is about creating new infrastructure, converting low-value land or marginal land into high-value assets, and having a developmental mix that is taking into consideration expansion of agriculture, opening up of tourism opportunities, housing developments, industrial developments and commercial developments," President Ali noted.
Further, he revealed that over the next few weeks, similar site visits will be conducted for other major road projects such as Timehri to Bartica and Timehri to the East Coast of Demerara through the India-funded Bypass Road Project.
Meanwhile, Minister Edghill remarked during Saturday's site visit that the new WCD highway will pave the way for other developments.
"We promised Guyanese that we will give out at least 50,000 house lots in five years. Getting this alignment open will even cause us to surpass the 50,000 mark; getting this alignment open will allow for more investments in agriculture as well as aquaculture. It will allow for movement of some [of] our manufacturing that is in the congested Georgetown area to come to this part of the [country] which will create jobs for people on this side. It will cut travel time, it will ensure farm to market access for produce, and not only in a seasonal manner…," the Public Works Minister noted. (G8)