It was only the second night of the competition, but it was by no means too early to witness a great upset, as Agricola registered a resounding win over futsal giants and defending Champions Bent Street during the Magnum Futsal Independence Cup on Wednesday night.
It was the duo of Kacy John and Kevin Padmore who engineered the 2-0 upset win with goals in the third and 16th minutes respectively, as shock and surprise prevailed at the National Park Tarmac.
Earlier in the night, Alexander Village eased past Avocado Ballers 2-0, with veteran marksman Leon Yaw recording a brace in the 6th and 16th minutes.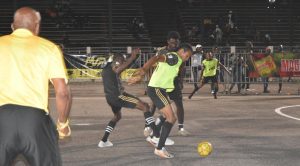 North East La Penitence squeaked past Ansa McAL All-Stars 3-2. Marlon Nedd bagged a brace in the fifth and sixth minutes, while Akeem Sam netted in the second minute. For the losers, Steve Sharples and Ryan Fraser found the back of the net in the 23rd and 24th minutes respectively.
Similarly, Future Stars edged Vengy 4-3. Ryan Dowding led the way with a double in the sixth and seventh minutes, while Daniel Ross and Jamal Cozier netted in the fifth and 16th minutes.
For Vengy, Alberto Hernandez, Castillo Marcus and Andres Hines scored in the second, fourth and 22nd minute respectively. In other results, Leopold Street was held to a 4-4 draw with Festival City, while Stabroek Ballers and Tiger Bay failed to be separated at 2-2.
Meanwhile, the renowned Gold is Money had a walk in the park against Beterverwagting (BV) beating them 3-0 to continue their unbeaten run and seal their place in the next round.
Randolph Wagner fashioned a double in the third and 21st minutes, whilst Darren Benjamin scored in the fourth minute.
The event resumes tomorrow at the same venue with another round of matches. The winner of the event will pocket $700,000 and the championship trophy, with the runner-up walking away with $400,000 and the corresponding accolade. The third and fourth-placed finishers will pocket $200,000 and $100,000 respectively.
The other sponsors of the event are: MVP Sport, Nigel Hinds Financial Services, Andrews Supermarket, Bold Expressions Barbershop, Fireside Grill 'N' Chill, Star Party Rentals, and Lucozade.
Complete Results
Game 1
North East: 3 vs Ansa McAL:2
North East Scorers
Marlon Nedd – 5th and 6th
Akeem Sam – 2nd
Ansa Scorers
Steve Sharples – 23rd
Ryan Fraser – 24th
Game 2
Alexander Village: 2 vs Avocado Ballers:0
Leon Yaw – 6th and 16th
Game 3
Tiger Bay: 2 vs Stabroek Ballers: 2
Tiger Bay Scorers
James Meredith – 8th
Alpha Fletchman – 16th
Stabroek Scorers
Mark Jhalu – 11th
Seon Taylor – 21st
Game 4
Leopold Street:4 vs Festival City:4
Festival Scorers
Jerome Permaul – 1st, 5th, and 8th
Seon Urquhart – 16th
Leopold Scorers
Roy Cassou – 11th and 23rd
Rondel Williams – 9th
Samuel Hunte – 17th
Game 5
Future Stars: 4 vs Vengy:3
Future Scorers
Ryan Dowding – 6th and 7th
Daniel Ross – 5th
Jamal Cozier – 16th
Vengy Scorers
Alberto Hernandez – 2nd
Castillo Marcus – 4th
Andres Hines – 22nd
Game 6
Gold is Money: 3 vs BV: 0
Randolph Wagner – 3rd and 21st
Darren Benjamin – 4th
Game 7
Agricola: 2 vs Bent Street: 0
Kacy John – 3rd
Kevin Padmore – 16th