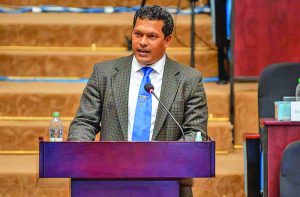 Former Deputy Speaker of the National Assembly, Lenox Shuman has stated that a Commission of Inquiry (CoI) into Sunday's deadly fire at the Mahdia Secondary School dormitory that took the lives of 19 children is key to understanding the issues that caused the blaze and finding solutions to prevent a reoccurrence of such tragedy.
In a statement on Friday, Shuman, who is the leader of the Liberty and Justice Party (LJP) and also a former Chairman of the National Toshaos Council (NTC), extended sincere condolences to the families and friends of those who perished in the tragic blaze at the Region Eight (Potaro-Siparuni) dorm and to the survivors.
"There is no greater tragedy than to have your child leave this world before you. Such a tragic loss hits the heart of the nation and most notably, the Indigenous community to the extent that there is a blanket of malaise over the nation," he stated.
Nevertheless, Shuman noted that the outpouring of support nationally and internationally has been tremendous and welcomed. He similarly recognised the efforts of the Guyana Government is responding to this horrific incident.
In fact, he specifically lauded a commitment made by President Dr Irfaan Ali on Thursday to launching a CoI into the events of the Mahdia tragedy as well as his commitment to providing compensation to the affected families.
"It is my sincere belief that this support is multifaceted and comprehensive. While there is nothing that one can do to reverse the tragic events nor their effects, these are critical and important first steps to understanding the issues and finding comprehensive solutions to ensure these things never occur in the future of this nation," Shuman posited.
During an update on the Mahdia dormitory fire, the Guyanese Head of State hinted at the possibility of an inquiry.
"We must learn from this tragedy, and we have to evaluate this tragedy so that we can ensure that proactively, this never occurs again in our country. The appropriate mechanisms will be established to ensure this is done. We have a responsibility as a country to take this tragedy and use it as an instrument of unity and an instrument to do better for our children," President Ali stressed.
Meanwhile, Shuman went on to laud the Guyanese Leader for dedicating three days of national mourning for this tragic loss to the Indigenous families, communities, and nation.
"I ask the public to please respect the families' right to privacy, give them room to grieve and room to give their little loves their last rites respectfully. It is only after the conclusion of the CoI as is committed by His Excellency that we will see our way through this," Shuman stated.