Nexgen Academy/Survival Shopping Complex inaugural Hit & Win golf tournament…
Former Guyana Open Men's Champion Mike Mangal and newbie female player Michelle Codrington demonstrated their golfing skills in the inaugural Hit & Win tournament sponsored by Nexgen Golf Academy& Driving Range /Survival Shopping Complex when they dominated a field of 55 players who had vied for honours in a competition that was a tremendous success even though it was organized on short notice.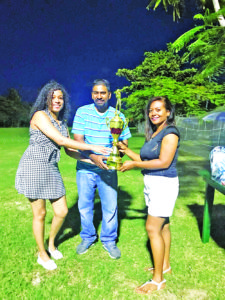 The format employed was designed with the help of Per Persaud of Crown Mining, and it allowed players to engage in the competition while following social distancing guidelines.
Survival Shopping Complex is conveniently located on Sheriff Street, a vital artery connecting the East Coast and East Bank of Demerara. This complex offers a wide variety of the finest grocery and household products, fresh vegetables and a massive beverage depot, along with bill payment services.
Company Director Parshuram Arjune was present to hand over some of the prizes. He said, "This was my first time playing the game with my sons, and it was an absolute joy to share this experience with them, especially since my work schedule is so hectic. But with the lighted facility, we were able to enjoy (the game) late into the evening."
He added that this would be an ongoing activity, and relationship with the Academy has great potential.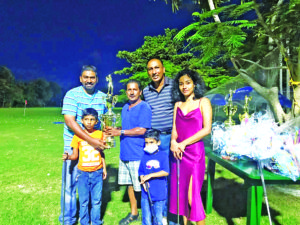 The event had prizes for first time players in women's, children's, beginner men's and experienced men's categories; and points awarded for the targets hit saw winners walking away with hampers, prizes and trophies. The results were as follows:
Children's category
First place: Navishram Arjune
Second place: Shriram Arjune
Third place: Arasely Bobb-Semple.
Women's category
First place: Michelle Codrington
Second place tied: Ashley Chu and Kavita Albert
Third place three-way tie Abigail Joseph; Ms. Gowrie Albert and Ms. Bibi Zarina Bissessar.
Men's category
First place: Mike Mangal
Second place: Deno Bissessar
Third place: Adrian Barrow
Fourth place: Leaknaraine Shivraj.
Nexgen Golf Academy & Driving Range is conveniently located on the grounds of the Guyana Teachers Union and Scouts Association of Guyana. This is between Camp and Albert streets on Woolford Avenue.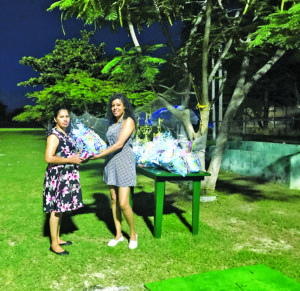 On August 10-11 @ 4:30 pm, the Academy is hosting children's evaluations camp for ages 3-14, with professional coach Colin Ming assessing the students before arranging for lessons.
Rudy Ramalingum, Director of the Academy, has said: "It is our goal to provide as many children as possible the opportunity to learn the sport without the cost normally associated with the game."
President of the Guyana Golf Association, Aleem Hussain, has said, "I am elated with the results and the mix of players we have seen in the past month, with more women and children, families and couples taking advantage of the location to learn the game and experience something only seen on television.
"With Coach Colin Ming and several others now available to help, it is expected that the level of play will increase dramatically, and golf will become a household name in Guyana."
For more information about the Nexgen Golf Academy and Driving Range, interested persons are invited to make contact on Facebook or Instagram, call 645-0944, or visit their Woolford Avenue location.