Forty-three-year-old Parbattie "Ravina" Austin, a mother of four, who was diagnosed with brain aneurysms in 2019, is now walking, talking and moving around on her own.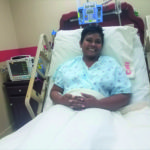 Just a few days after the surgery, the woman seemed to be in full spirits and very satisfied with her results.
Before the surgery, Austin could not have participated in any physical activity, had to be free of stress, noise, excessively bright lights, and high scented odours.
The procedure was done on Thursday at the Caribbean Heart Institute (CHI) at the Georgetown Public Hospital Corporation (GPHC) by Guyana's lone neurosurgeon, Dr Amarnauth Dukhi.
"My surgery is finished and I thank God for my success, my confidence in Dr Dukhi which I never give up on and my faith in God took me through", the patient stated.
The woman, before being discharged on Saturday, said that she feels like herself again and she is experiencing no pain or side effects thus far.
"I feel like me, I am ready to go home and play with my puppies and see my kids and be me, I know it will take some time for it to be the real me," she said.
Dr Dukhi, however, explained that MRA scans done on Austin showed one aneurysm, but during the surgery, they discovered another one. The doctor said that the endovascular coiling was used to successfully treat both of the aneurysms.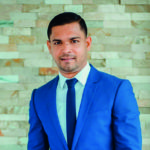 "A ruptured aneurysm carries a high fatality; a high percentage of patients die in the first rupture, also a high percentage of them also have neurological deficits after the first rupture", he said.
Meanwhile, he further added that with the struggle Austin and her family would have faced acquiring finances for the surgery, the Ministry of Public Health would have stepped in to support. He pointed out that treating brain aneurysms is a new initiative to Guyana's health system.
"No other Guyanese should die from a brain aneurysm that was captured and diagnosed early; we have means and ways of treating them and so the fatality rate should go down," Dr Dukhi said.
Based on his explanation, Austin will be required to make some lifestyle changes, but her risk of further bleeding is minimal and she should be able to live a normal life. He said that she was further advised not to overwork herself.
"I am very keen on seeing Ms Parbattie go back to what she used to do", he said
Nevertheless, when asked how much the procedure cost, Dr Dukhi said he could not remember the amount offhand, but it is costly.