By Andrew Carmichael
Twin sisters Amesha Thuesday Grant and Amela Latahsa Thuesday on Wednesday gave birth to their babies some 13 minutes apart at the New Amsterdam Regional Hospital.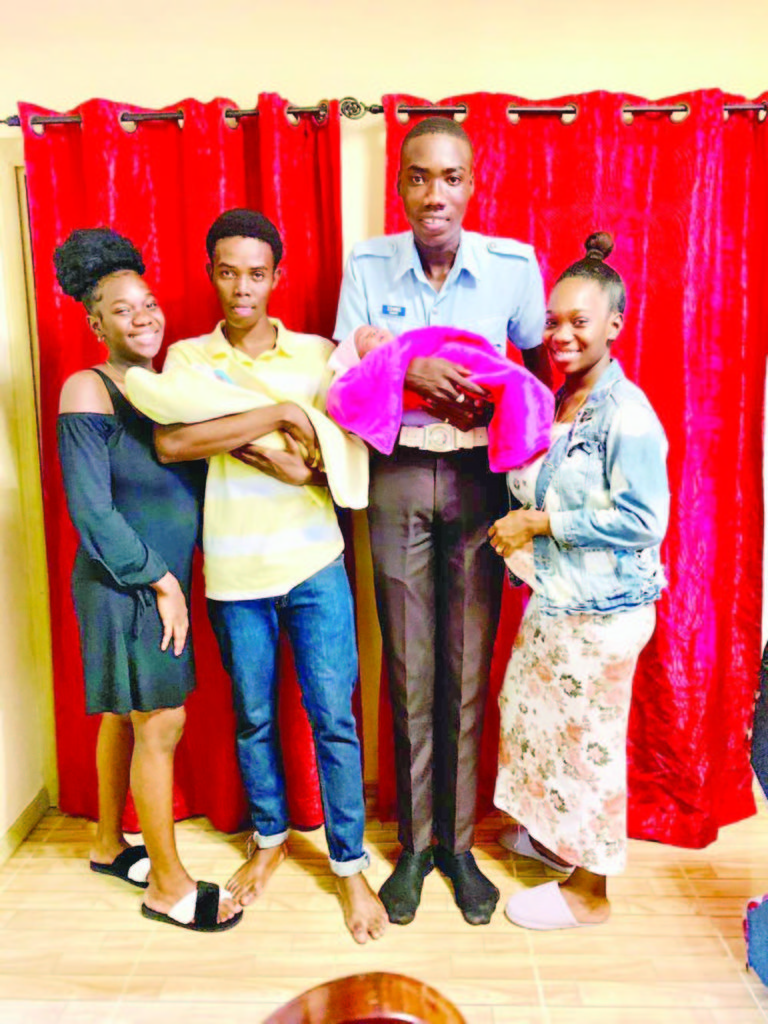 The infants – a girl named Cassidy Miracle Grant and a boy named Myron Kingsley Rajgopaul – arrived at 09:10h and 09:23h, respectively. Both babies weighed some 3 kilograms. Amesha and Amela were both admitted to the hospital on February 23.
Despite being identical twins, they thought differently of each other from the time it was revealed that the other was pregnant.
Amela was the first to become pregnant and to reveal her pregnancy, but being unmarried, her first hurdle was to speak to her mother about her pregnancy.
She said much to her relief, her mother took the news well and was very excited.
"She was amazed and excited but was waiting on the right time," Amela told Guyana Times.
The new grandmother, Earlene Thomas sat with the girls as they spoke with this publication. She said that she was surprised but happy.
"I was surprised but happy because she always says that she doesn't want children," the mother of seven told this publication.
Amesha revealed that as the big sister – by a mere five minutes, she always expected that Amela would one day become a mother.
According to Amela, it was a big challenge to break the news to her mother.
"My mom… her reaction was the best. I never expect that reaction from her because she always want to hear and see us do good… as mother you won't want your girl child to be in certain things but when I told her I was pregnant, she was like, 'I knew. I was just was waiting for you to come to me'. She said that Amela you're now going to be a mother, so do your best…"
According to Thomas, at one time it seemed as though her twins were not going to become mothers. Both of them were athletes and part of the Hopetown Plane Athletics Club and represented Guyana on the track in the USA.
Amesha was better at the 100 and 400 metres while her sister also ran the 400 metres but her main event was the 200 metres.
As girls, they also danced and Amesha is a member of the Number 5 Conquerors Football Club.
According to Thomas, arrangements were made for Amela to go to the New Amsterdam Hospital for admission.
"That is the date they give her at the clinic to go to the hospital and when I at the hospital with her and they admitting her, the other sister called me and tell me that she getting pain… it was so confusing."
However, she noted that she is very happy that both deliveries were successful despite knowing that one of the daughters was not going to have a normal delivery.
Meanwhile, at the New Amsterdam Hospital, some staff members were baffled on Tuesday when they saw what appeared to be a patient being admitted for a second time. The twins wore identical clothing to the hospital. Amesha got married last December to a Police Constable and now the couple has two children.