– Points to Govt's unwillingness to honour Berbice Bridge agreement
Close to six months ago, Government laid a Public-Private Policy (PPP) Framework document in the National Assembly. This document is an institutional and legal outline that encourages the private sector to participate in the procurement and financing of public projects.
More recently, Finance Minister Winston Jordan, declaring Government's intention to prepare for the modernisation of Port Georgetown, said Government was looking to attract private sector financing, but a feasibility study would first have to be done before commencement of the project.
Opposition Member of Parliament (MP) Juan Edghill has said he welcomes the fact that there is a follow through with this idea, but he has reminded that it had been under active consideration before the People's Progressive Party/Civic (PPP/C) had demitted office in 2015, and had been discussed at Cabinet level.
"The development of Port Georgetown is not a new development by the coalition Government. It is the Shipping Association and the private sector (which) had long indicated the need for the Government to do something…so that we can carry greater capacity to reduce freight," he explained.
Edghill told Guyana Times on Sunday that the PPP model had been used by the PPP/C as a developmental tool to garner financing to advance Guyana's development. He recalled that it had also received heavy criticism from the then Opposition parties, A Partnership for National Unity and Alliance for Change (APNU+AFC).
"As a matter of fact, they saw a jumbie behind every tree when it related to the PPP arrangement, and they had a lot of negativity… They painted it as if it was something that was causing Government to be giving away projects to friends and families," the MP also recalled.
He also said it is heartening that the Governm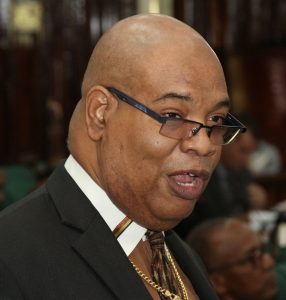 ent would like to move forward with a PPP model for Port Georgetown; but the former Junior Finance Minister said this development is of major concern because that same model had been used to produce an infrastructure development project such as the Berbice Bridge.
"…which has been constantly attacked, so much so that they have taken over the arrangements of the bridge and (are) unwilling to honour the agreement in the PPP arrangement… I am particularly confused and concerned, and I believe that every Guyanese ought to be…," he added.
Edghill is questioning the intent of the Government. "Is it to have a policy of PPP arrangement for infrastructure development? Or (do) they want to see it to benefit a particular or selected group of individuals? Because if they are faithful to the PPP model, then their treatment and handling of the Berbice Bridge in terms of negotiation, those who took the risk are not left at a disadvantage…or breach the contract and not wanting to honour the concessions in the agreement," he explained.
"So it is troubling to me to find out how they would like to advance a PPP model for Port Georgetown while continuing their rhetoric, and moving beyond their rhetoric to actual attacks on the signal PPP which was used for the Berbice Bridge."
Further to that, he said the PPP framework document that was laid in the National Assembly earlier this year has not yet been debated and publicly ventilated. He also said it carries with it a list of concerns, particularly the total elimination of National Procurement and Tender Administration where, in that framework that they have, established a single sub-committee which supersedes the procurement laws.
According to the framework, the Government's intention is to encourage innovation in as many ways as possible. It said PPPs have been applied to the infrastructure sector, in particular areas of electricity, telecommunications, water, transport and solid waste.
The Government plans to use the model for a number of key areas of development. These include the Demerara Harbour Bridge, the Linden- Lethem road link, the Deep-Water Harbour and container port, the Mini and Maxi Hydro plants and energy farms, and milk plant for Guyana, among others. (Samuel Sukhnandan)