Chemical plant in Houston
…rather than adhere to Guyana's EPA policies
Nalco Champion, the company whose attempt to set up a chemical facility close to a residential area had residents up in arms, has decided to move its proposed chemical operations to Trinidad.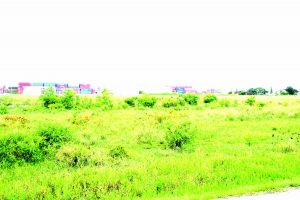 This was revealed on Monday by Environmental Protection Agency (EPA) Director Dr Vince Adams, who was at the time at a seminar for capacity building in the oil sector. According to Dr Adams, the company's decision came about after it was presented with rules it would have to adhere to locally.
Initially, the company was going to set up the facility at the John Fernandes inland terminal at Houston, Industrial Site, Ruimveldt. That was until residents rose up in protest against the construction, after which the company switched its sights to the John Fernandes Wharf on Water Street, Georgetown, to build the facility.
Dr Adams explained that to approve building the facility, EPA presented the company with conditions it would have to satisfy. These were that the company have the buy-in of the Guyana Fire Service in its operations; the company had to have mitigating measures in place for an accident and they had to have an Environmental Impact Assessment (EIA).
"They requested a permit to operate at the John Fernandes wharf on Water street, which is zoned as industrial. We looked at it, we said ok if you satisfy these three conditions… they came back and told us those are too restrictive," Adams explained.
"I don't think that they are. I think they are reasonable and are minimum expectations. But they made their decision and I have no control over that. I have to work in the interest of the people of this nation. They work in the interest of their company."
At a consultation on August 20, residents questioned the legality and management of the project and further questioned about risks and compensation plans should there be a chemical leak or spill.
In answering the questions of legality, a Central Housing and Planning Authority (CH&PA) representative revealed that the said land was zoned in 2014 and an application was since approved for the construction of such a facility. Concerns regarding compensation were, however, left unanswered.
Nalco halted its construction activities at the Industrial Site, Georgetown facility months ago amid concerns raised by the residents of Houston, who organised a protest and media briefing to highlight their concerns about the project.
Residents had expressed fears about the project, including possible contamination of surrounding water sources. They thus came together to urge that the authorities step in and prevent the construction of a chemical facility in a residential area that also features schools.
They had also contended that they were not consulted before the decision was made to set up the facility. Moreover, the residents claimed that despite reaching out to the Environmental Protection Agency, they have been slow to act.
Businessman Kent Phillips, a Houston resident, had noted that prior to John Fernandes buying the land, it was supposed to be for residential purposes. He noted that this is what he and other residents were told before they purchased their own properties.
"On my transport, it stated that this is going to be an upscale housing development in Houston Gardens. And what you see would have just been houses. I bought in 2010. Before I started building, I saw containers going up. We were told that the land was bought by John Fernandes for houses for their staff."
"After a few years, we were told that they would have hundreds of metres free and hundreds of metres of trees as a buff. That container terminal was not supposed to be there in the first place. So before, everything started with the terminal and now it starts with the chemical plant they're building."
The residents had emphasised that not only was the plant hazardous to them, but it can have a ripple effect on the whole city. Besides the danger to residents, Private Sector Commission (PSC) executive and resident Ramesh Dookhoo noted the danger a chemical spill could pose to other businesses.
The EPA had previously put an ad in the print media informing the public of Nalco's application for approval to construct the chemical storage facility. The facility, located at John Fernandes inland terminal in Industrial Site, Ruimveldt, would service ExxonMobil's Floating Production Storage and Offloading (FPSO) vessel during oil production.
But though the application for approval was pending, one resident pointed out that construction works had already begun and materials were being assembled at the site. Efforts to contact officials from the EPA, including Director Dr Vincent Adams, were futile.