After a scintillating weekend of track and field action, the duo of Emanuel Archibald and Natasha Aulder, both of the Police Progressive Youth Club (PPYC), were named the male and female National Champions, while Athletics Association of Guyana (AAG) President Aubrey Hutson rated the event a success.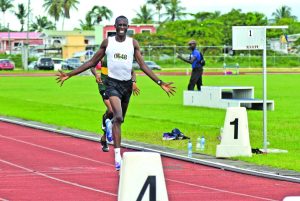 Olympian Archibald clocked 10.38s in the men's 100m sprint on Saturday and then followed it up with a winning 7.90m leap in the long jump, to solidify his hold on the Paul Arthur Trophy as Champion Male of the National Senior Championships.
Meanwhile, Aulder was the woman to beat in the field events, throwing 11.22m and 37.37m for first in the shotput and discus events, respectively. CARIFTA gold medallist Anisha Gibbons was the only one to pip the Champion Female, in the javelin event. Gibbons threw 43.89m for first, while Aulder threw 32.29m for second. Stacy Wilson completed the podium with a 26.80m throw.
Back on the track, Keliza Smith added another sprint double to her name, stopping the clock at 11.53s in the 100m and 24.29m in the 200m for her victories. Juvonna Corlette and Tonya Rawlins made up the 100m podium with times of 11.63s and 12.00s. The podium was the same in the 200m, as Cornette and Rawlins clocked 24.44s and 25.41s for second and third.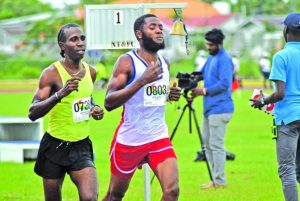 Aliyah Moore was a force to reckon with in the middle and distance races, winning the 1500m and 5000m with times of 4:52.30s and 20:41.65s. She was second in the 800m event with 2:13.25, crossing the line after Joanna Archer with 2:12.24.
CARIFTA 2022 medallist Naris McPherson was third in the 800m race, clocking 2:16.78. However, McPherson made the 400m event her own, crossing the line in 56.38s for first place. Collia Rowe and Analissa Redmond were second and third in 57.10s and 57.14s respectively.
Chantoba Bright was outshone twice, in the long and triple jumps, coming second to Natrena Hooper. Hooper leaped to 6.10m and 12.86m respectively, while Bright leaped 6.00m and 12.65m for two silvers.
The Guyana Defence Force (GDF) won the anticipated 4x100m relay in 48.46s, two split seconds ahead of Running Brave Athletics Club (RBAC) in second. PPYC were third with a time of 50.15s.
After finishing second in the 100m in 10.42s, Noelex Holder clocked 21.37s for second in the 200m, trailing Loneil Marks in 21.34s. Revon Williams was third with 21.57s.
Michael James took top honours in the 400m event in 48.01s, followed by Simeon Adams in 48.13s and Lennox Douglas in 49.16s.
Devaun "Scooby" Barrington, raced away with the 800m title after pipping Nicholas Daw near the line in 1:52.07. While Daw came in second (1:52.91), Simeon Adams was third in 1:55.45.
Marlon Nicholson opted to take on only the 5000m distance race, clocking 15:59.80 for the win. Odwin Tudor was a close second in 16:01.80, while Cleveland Thomas settled for third in 16:10.50.
Meanwhile, Winston Missigher, who finished fourth in the 5K, moved up to first place in the 10K race, crossing the line in 32:45.32, while Thomas was second in 32:48.67.
National record holder Leslain Baird made light work of the competition once again, throwing 66.02m for the win. In second place was Joshua Tappin with a 62.46m throw and Tremaine Beckles was third, after making a 60.16m mark.
After the hectic weekend, AAG President Hutson was pleased with the competition they were able to put on.
"Well, it's good. With a lot of athletes aiming to go to World Championships, Commonwealth and other championships later down in the year like the South American Games, it's good to give them this level of competition," he said.
Hutson further stated, "A lot of them did pretty well. I know Emanuel Archibald was hoping to do a little better than what he would have done – but hey, what you put in, you'll get out. Juvonna Cornette coming home and Chantoba Bright being here in preparation for the Caribbean Games, it's a good opportunity for them to be here and showcase their skills."
Clubwise, PPYC led the way with 352 points, while GDF accumulated 247. RBAC was next with 120. Hopetown Flames and Upper Demerara Secondary followed with 29 and 27 points respectively.
The next activity on the AAG's calendar will be the National Junior Championships next weekend, tentatively scheduled for July 8-10.