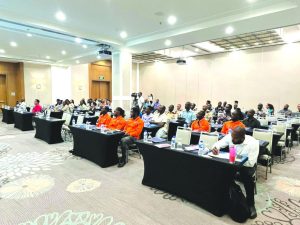 Orica Mining Services, in collaboration with the Natural Resources Ministry, Guyana Geology and Mines Commission (GGMC), and the Guyana Mining School, on Tuesday commenced a three-day programme to benefit blasters in the country with the expertise of global experts.
Titled "Safe and Efficient Blasting in Mining and Quarrying", the programme is targeted to benefit experienced blasters and blasters' helpers, and informative presentations, interactive workshops and engaging discussions are to be led by industry experts and experienced professionals.
Topics to be covered include advanced blasting techniques, hazard risk management, blast design and optimisation, safety protocols, environmental considerations, and the use of modern technologies in blasting operations. Training sessions are being conducted by international blasting experts who practise their trade worldwide.
In addition to educational sessions being provided, participants with the required field experience would also have the chance to write an exam administered by the GGMC on Saturday, in order to obtain a blaster's licence.
Natural Resources Minister Vickram Bharrat opened the specialised course by commending stakeholders for this initiative, expressing that the need for experienced, locally-trained blasters has exponentially increased.
According to Minister Bharrat, the training of Guyanese professional blasters aligns with the Ministry's local content objectives and the Government's development and growth strategy.
He has encouraged participants to pursue certification as a means to better themselves and Guyana as a whole. Almost 100 persons are attending this programme.
With over 13,000 employees, Orica, headquartered in Australia, is the largest explosives provider in the world, and has been providing explosives to Guyana over the last 40 years.
It has been reported that the gold mining and quarrying sector is estimated to have grown by 89.9 per cent in the first half of the year. This increase outweighs the declines observed in the gold mining and bauxite mining subsectors.
According to the Mid-Year Report, 209,756 ounces of gold were declared at the end of June 2023.
According to the report, small- and medium-scale gold miners declared 159,084 ounces at the end of the first half of 2023. However, declarations from the large gold producers – likely a reference to Zijin Mining – expanded by 6.1 per cent.