– as PAC hears of need for law to summon accounting officers
New pieces of legislation aimed at beefing up the powers of the Public Accounts Committee (PAC) to go after officers skirting accountability, are likely to be brought to the National Assembly in the coming months.
The PAC is an important organ of Parliament, in charge of ensuring taxpayers' money is well spent and free from corruption. It has, however, had to grapple with public officers who refuse to, or are unable to, make themselves available for questioning.
On Monday, the PAC met to peruse spending in Region 5 Regional Administration during the 2019 fiscal year. However, the accounting officer from that period, Ovid Morrison, was not present at the morning session.
During the sitting, PAC member and parliamentarian Juretha Fernandes reminded the committee of a pending motion that will seek to, through the introduction of legislation, beef up the PAC's powers.
"One of the things I want to remind the PAC is that we had an issue in which we discussed, at length, whether the PAC even had the power to summon anyone to attend. Because we realised, and I think it was expressed even by our legal minds here at the PAC, Mr (Sanjeev) Datadin and so forth, that we do not have that power to summon anyone."
"Hence, we have a motion being put forward right now, collectively, by the PAC to the National Assembly, so that we will actually have the law changed so that we will then have the power to summon someone. So, as it is right now, we cannot operate as though the PAC has any power to summon. So, we need to expedite that motion in the National Assembly so we can go down this course."
Fernandes pointed out that there have been instances before where accounting officers did not show up and emphasised that the PAC's work must continue. This was reinforced by acting Chairperson, Ganesh Mahipaul.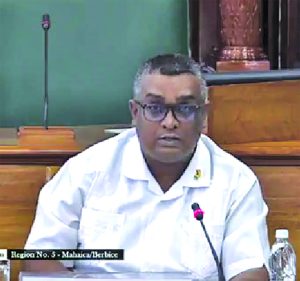 "I am guided that the Parliament Office was informed by the current REO that she is in communication with Mr Ovid Morrison. And in so doing the Parliament Office dispatched a letter addressed to Mr Ovid Morrison, to the current REO, for her to dispatch to Mr Morrison. Three weeks ago, we were supposed to examine Region Five. And unfortunately, we did not get to examine Region 5."
"Clearly there is an issue in terms of communication, his availability and whether he is in the jurisdiction or not. I am proposing that we move forward with the paragraphs before us and if the need arises where a paragraph or two would require that clarity from the former REO, then we would have to take a decision going forward."
According to Mahipaul, the motion would seek to vest the PAC with the authority in the Legislative Evidence Bodies Act, to be able to summon officers. In the meantime, the work of the PAC will not be stymied.
Meanwhile, when Morrison did eventually show up at the PAC meeting in the afternoon session, he explained that he had a "perfect handing over" to his successor when he demitted office. He further noted that any responses to the audit queries he gave back in 2019, would be consistent with his current responses.
"I wish to make it clear that my response is in keeping with my response to the Auditor General queries. However, I have been asked five years, matters of five years back. When I handed over, I had a perfect handing over. And therefore, in discussing any audit query, all department heads should always be present in discussions with me. So, any department head can answer."
Days after the People's Progressive Party (PPP) took office in August of 2020, Morrison was one of seven REOs that the Local Government and Regional Development Ministry had given marching orders to.