Guyana's Carlos 'The Showstopper' Peterson-Griffith hopes to shock the world over the next week when he attends the World Powerlifting Championships in Sweden, and the National Sports Commission (NSC) has injected a hefty sum into the preparation and travel for the powerlifting phenom as he embarks on a goal to shatter world records.
Peterson-Griffith has secured a spot in the World Powerlifting Championships which are scheduled for September 23 to October 3 in Halmstad.
On Tuesday, Director of Sport Steve Ninvalle made a presentation of $1.2M to Peterson-Griffith as he heads off to the Championships being hosted by the International Powerlifting Federation.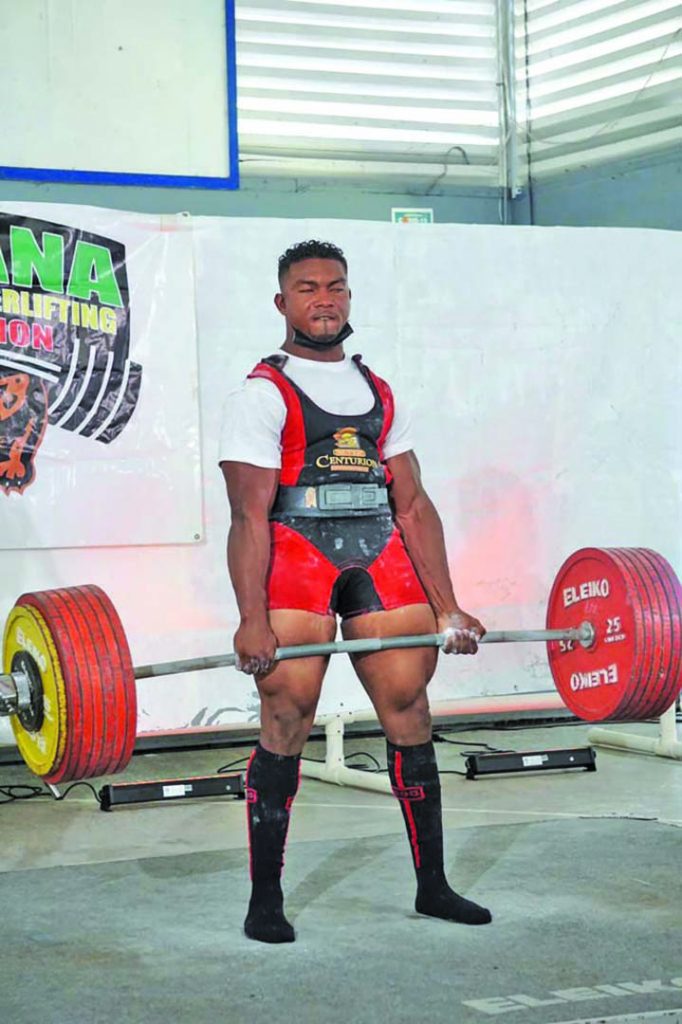 The Director of Sport stated, "We want to say that the National Sports Commission; the Minister of Culture, Youth and Sport, and by extension the Government of Guyana, had promised Mr. Peterson-Griffith that we would try to assist as much as we can. Of course we know that our budget is not infinite; we, of course, with our limited resources that we have, we try to see as best as possible how we can spread it to all sports' disciplines."
Given The Showstopper's recent outing at the FESUPO/NAPF Pan-American Regional Powerlifting Championships, where he broke several records, Ninvalle went on to share the necessity of supporting outstanding athletes.
"Considered an elite athlete, he has been making this country proud, he has made the sport proud. He's just done that a month ago, breaking several records, and we feel that it's just appropriate that we assist him and continue to assist him in his climb to becoming one of the best in the world," Ninvalle shared.
While confirming that this will not be the last time the NSC throws its support behind the powerlifter and the Guyana Amateur Powerlifting Federation (GAPLF), Ninvalle said, "We do hope that he can bring back more medals when he gets to Sweden."
Peterson-Griffith thanked the players involved for not only supporting him, but getting him to this point in his illustrious career.
"Thank you to NSC and also the Director of Sports, Mr. Ninvalle. Besides that, I'd like to say thank you to all my sponsors out there."
Peterson-Griffith added, "Without you guys on board, this wouldn't be possible, and moreso myself."
The Showstopper continued by saying, "One thing I would like to reiterate, this is just a stepping stone, not just for myself, but other elite athletes who would like to step up the podium, bringing it home every time and being disciplined in every manner."
Peterson-Griffith is contesting in the 93kg deadlift and squat categories, and will be the only Guyanese athlete participating in the action in Sweden. However, he will be accompanied by a manager and referee.