Approximately a week before they jet off to the home of the World's fastest man for the 49th edition of the CARIFTA Games, support has been pouring in from all avenues for Guyana's 2022 CARIFTA team.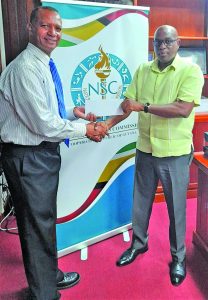 A total of 13 athletes, along with coaches and a manager, will comprise Guyana's team to the games this year, and with one week to go before the regional event gets underway, Mohamed's Enterprise and the National Sports Commission (NSC) have come to the aid of the Athletics Association of Guyana (AAG) in fielding travel and accommodation costs.
On Wednesday, Azruddin Mohamed of Mohamed's Enterprise handed over an undisclosed donation to the AAG, while on Thursday, Director of Sport Steve Ninvalle presented a cheque for Gy$2M to the Association at his Middle Street, Georgetown office. The donations were received by the AAG's Regina Persaud and by AAG President Aubrey Hutson respectively.
Guyana's team this year features seven female athletes and their six male counterparts. In the Under-17 category, the promising Attoya Harvey will contest the 800m, 1500m, and 3000m events, while Naris McPherson will join her in the 800m event.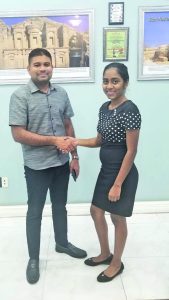 The lone Under-17 male, Javon Roberts, takes on the 800m event.
In the Under-20 competition, 2019 Gold medalist Anisa Gibbons, the first female to win gold for Guyana in the javelin event, will take another shot at that event.
Adreil Austin, another CARIFTA medalist, will have a go at the 800m event, in which she copped a bronze medal in a previous edition of the Games.
Keliza Smith and Karese Lloyd will take on the 100m and 200m sprint events, while Hannah Reid competes in the 400m event.
Shamar Horatio and Ezekiel Newton will take a shot at the sprint double, competing in the 100m and 200m events in the Boys Under-20 category. In the sand pits, Wesley Tyndall will compete in the Long Jump, while Trevon Hamer takes on the Triple Jumps. Field events will also see representation from Guyana in this age group, as Gabriel Lim competes in the javelin and discuss throws.
Sham Johnny and Raymond Daw are the coaches accompanying the team to Kingston, Jamaica.
Back in 2019, Guyana fielded its largest CARIFTA team ever, and returned with 9 medals, inclusive of four gold, two silver and three bronze medals. The Games were later cancelled in 2020 and 2021, owing to the Coronavirus pandemic.