Guinness Cage/Three Peat Promotions Indoor Futsal
‒ Ballers crush Future stars 3-1 in exciting final
A hat-trick of goals from Most Valuable Player Quason McAulay laid the foundation for giant killers Ol Skool Ballers convincing 3-1 win over pre-match favourites Future Stars as the curtains came down on the inaugural Guinness Cage / Three Peat Promotions Indoor Championship Saturday night, at the National Gymnasium.
Played before a large and vociferous crowd that included Banks DIH Outdoor Events Manager Mortimer Stewart and supporters from the respective communities, the highly anticipated clash lived up to all expectations as the teams traded attacks after attacks in the opening minutes, before McAulay broke the deadlock with a clinical finish in the 9th minute.
Future Stars squandered a few opportunities of their own, but were given a reprieve when a defensive error in the 12th minute allowed them back in the game.
However, they paid the ultimate price for their defensive blunders and McAulay returned to inflict another wound in the 15th minute with a cracking shot.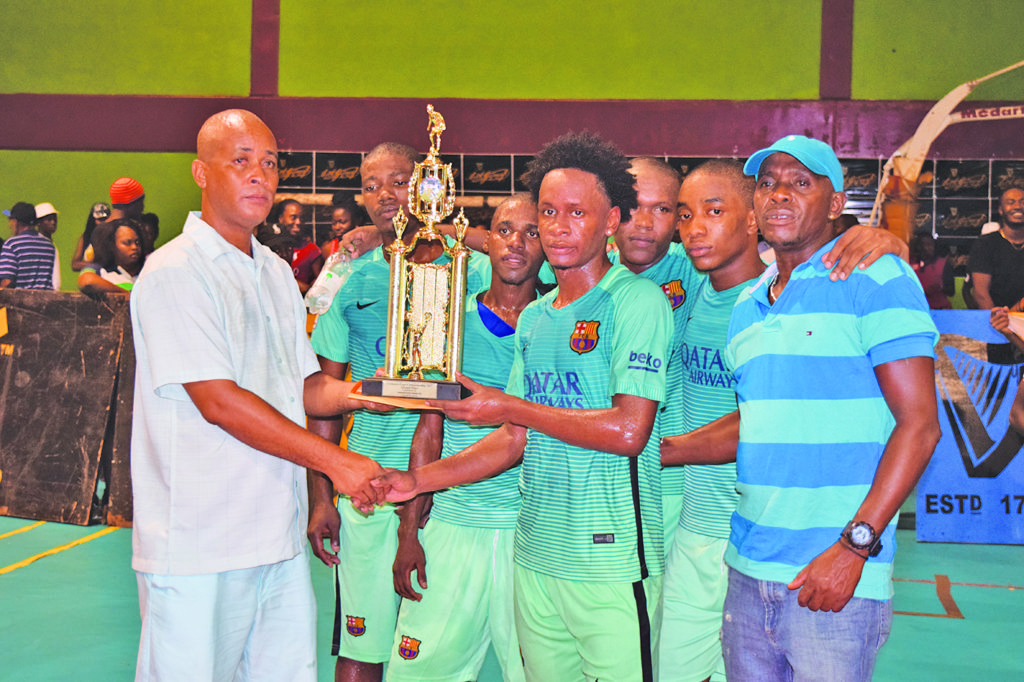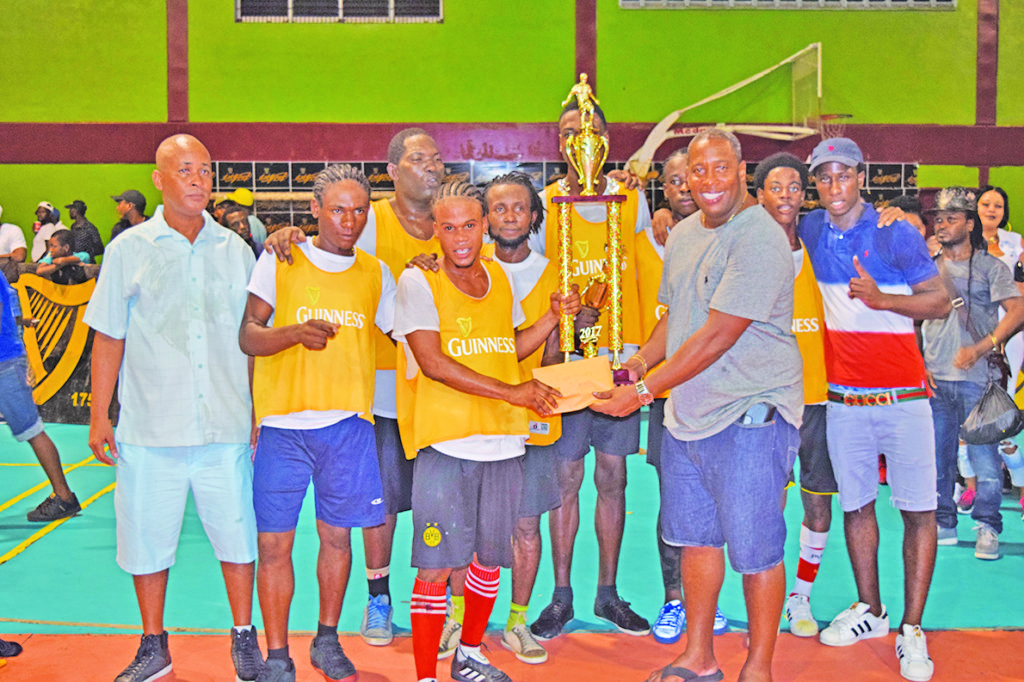 Urged on by their fans stationed in the southern stand, Ol Skool Ballers took a 2-1 lead to the break and when many felt they would have activated their stifling defence to protect their slim advantage, instead it was their offensive efficiency that left the Stars stunned.
The Ballers led by the experienced Julian Masdammer played at a tempo that suited them and it created some amount of frustration for the usually fluent Future Stars side.
McAulay's third goal was the dagger that pierced the hearts of the Future Stars band of supporters and also dashed the hopes of any comeback when he cracked the defence in the 35th minute to seal victory, the $400,000 first prize, the championship trophy and their name inscribed in the history books of being crowned inaugural champions.
Future Stars walked away with $200,000 and a trophy for their efforts.
In the third place playoff, Leopold Street cruised to a 2-0 win over Back Circle with Championship Highest Goalscorer Okanie Fraser and Omallo Williams, the players of target in the 18th and 30th minutes.
Fraser, who ended on 8 goals, won a gold chain compliment of YK Investments, while they received $100,000 and a trophy.
Back Circle got $50,000 and a trophy.
Meanwhile, the Organisers extended special thanks to Guinness Brand Manager Lee Baptiste for his overwhelming support and all the other sponsors including: Star Party Rentals, Faye Joseph, Claude Geddes Recreational Sports Club, National Sports Commission, Windjammer International Hotel & Cuisine, E-Networks, Woodpecker Trophies & Sport, Y.K Investments & Pawn Shop, Henry Chase, Jai Signs, Trophy Stall, the Bike Shop and John Fernandes Ltd.
The Guyana Police Force also came in for special mention for their splendid work during the championship as well as all the media outlets.
Final
Ol Skool Ballers-3 vs Future Stars-1
Ol Skool Scorer
Quason McAulay-9th, 15th and 35th
Future Stars Scorer
Own Goal-12th
3rd Place
Back Circle-0 vs Leopold Street-2
Okanie Fraser-18th
Omallo Williams-30th
Individual Awards
MVP-Quason McAulay-Ol Skool Ballers
Highest Goal Scorer-Okanie Fraser-8 goals