Windies' July Test tour to England…
-disappointed at again being snubbed by Windies' selectors
By Brandon Corlette
If "being humble and strong" were an individual, that individual would be the inimitable, indomitable, mesmeric bowler Veerasammy Permaul.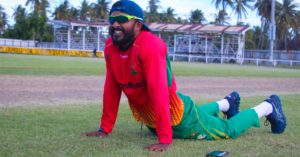 West Indies have on Wednesday announced their squad to tour England in July 2020, and Permaul has again not been considered for selection. In fact, he has not even been listed among the 11 reserves; a circumstance that is unbelievable, considering his "unbeatable record" listed below this article.
The day after that touring squad was announced, a "fit and ready" Permaul was

seen at the Albion Community Centre Cricket Club (ACCCC) training with intensity and purpose.
While Permaul refused to respond to questions, ACCCC President Vemen Walter did all the venting for him. Walter has been close to Permaul from the inception of his cricketing career; and since Permaul was not contacted by Windies' Chief Selector Roger Harper, the ACCCC are calling for a valid explanation in regard to Permaul's omission from the squad.
In an exclusive interview with this publication last Thursday, Walter posited that Permaul had even stepped up his preparation since he was included in the 30-man provisional squad.
"As we all know, he is a very committed young man (who places) much emphasis on his cricket. He was very optimistic about this England tour, and he is very disappointed (at not being selected). He is a tough customer, (but) within he is hurting because, when you put in a lot of effort into something and you are not rewarded, obviously you are going to be disappointed," Walter disclosed.
Walter also noted that, as a consistent performer, Permaul will put this at the back of his mind and move on by working harder on his game. "He has been accustomed to this (snubbing)", Walter explained.
Given his extreme consistency at the regional first-class level for the past six years, and his most recent success in grabbing 50 wickets in the 2020 truncated 4-day season, Walter believes there is no valid reason why Permaul had not been considered for the England tour.
"We need to know exactly what is the reason for Permaul's continuous omission or non-consideration for selection. Here is the case where Permaul has been performing, and the regional first-class tournaments are supposed to be the yardstick used by the selectors for selecting players to the West Indies senior team; and performance matters!" Walter explained.
Walter is convinced that Permaul has merited a place in the Windies team.
The ACCC have instilled in their cricketers the importance of working hard to attain success, Walter explained. "What has happened to Permaul is certainly not inspiring to young cricketers, not only at Albion or Berbice, but in Guyana and the Caribbean," he declared.
Like many other Guyanese at this time, Walter is seeking answers to Permaul's non-selection, and has directed his queries to the Chairman of Selectors, Guyanese Roger Harper: "What is the reason for this (Permaul's omission)? What is it that he is doing wrong? What does he need to do better?" he asks.
That, the intelligent and sympathetic Walter says, is the only way Permaul would know what areas of his game he has to improve on.
Permaul's unbeatable record
In the 2014-15 season of the Regional 4-Day Tournament, Permaul took 67 wickets in ten matches, but that record-breaking performance did not earn him a recall to the Windies Test team.
However, he continued to show his skill and consistency year after year.
In the 2015-16 season, Permaul played eight matches and claimed 40 wickets. He then followed up that season with 41 wickets in the 2016-17 season, and 50 wickets in the 2017-18 season. In the 2018-19 season, Permaul took 42 wickets; and in the 2019-20 season, the most recent, Permaul took 50 wickets in only eight matches.
After his last Test, Permaul played 55 first-class matches and took 290 wickets. He has a best bowling figure of 8 for 18; a best match haul figure of 15 for 77; and has taken 18 five-wicket hauls and seven 10-wicket hauls at an average of 16.90.
Permaul has played in 121 first-class matches, and has taken 536 wickets. He has a best bowling figure of 8-18 at 20.65, with 29 five-wicket hauls.
Is that not sufficient to earn him a recall to the Windies Team?