– Giddings cops top female award
The large training hall of the St Francis Community Developers was almost filled to capacity as Guyana's leading youth and sports club, the Rose Hall Town Youth and Sports Club (RHTY&SC) held its 29th Annual Award Ceremony.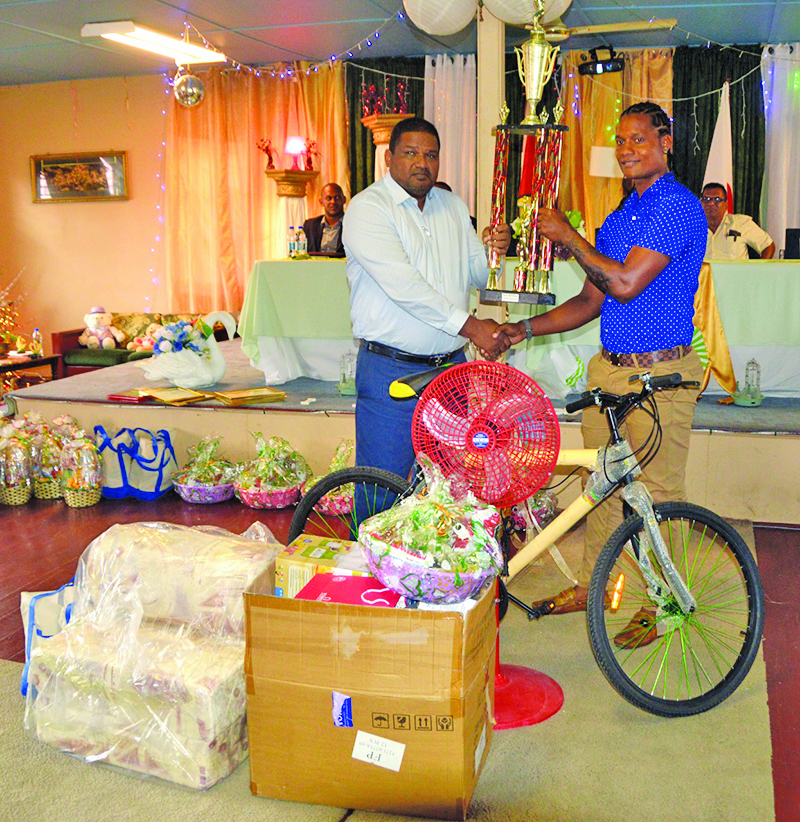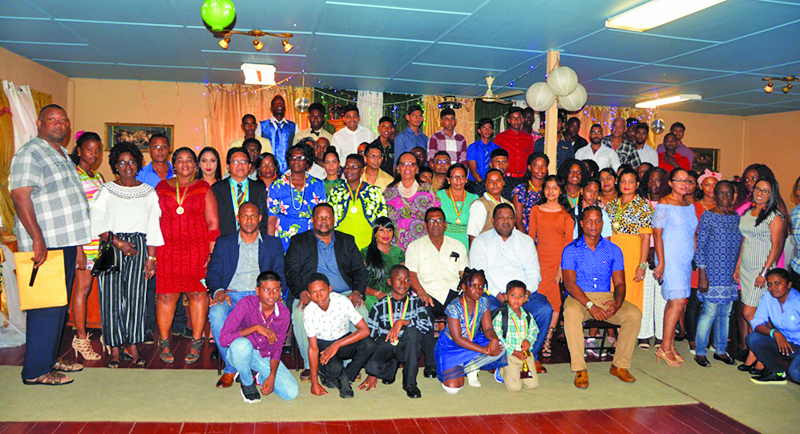 A total of $2.5 million worth of trophies, medals, framed certificates, prizes and donations were distributed to dozens of club members, cricket clubs, youths, medical personnel, retired teachers, outstanding teachers and students, law enforcement officers and deserving members of the public.
Among the prizes shared out were cell phones, smart watches, gold jewellery, gold medallions, designer clothing, electrical equipment, household and kitchen items, food hampers, cricket bats, sport gear, cosmetics, hampers, educational materials and designer watches.
RHTY&SC CEO Hilbert Foster stated that the Award Ceremony was hosted every year to recognise and honour outstanding club members who excel during the past calendar year and to encourage all RHTY&SC members to always strive for excellence.
The Club, during the three-hour ceremony, also honoured 16 medical personnel, four retired teachers, four outstanding law enforcement officers, eight Teachers of the Year, and eight Students of the Year and presented its highest award "The Dolphin Award of Excellence" to five outstanding Guyanese.
The longstanding CEO, in a comprehensive report, stated that the Club in 2018 completed a record 718 activities and was very successful on the cricket field.
The 10 cricket teams of the Club over the past 14 months have won a total of 15 cricket tournaments, including Pepsi 50-Overs, Busta Champion of Champions 40-Overs, New York Business Group Under-19, New Building Society 40-Over Second Division, Patron's Cup 10/10 and Raffik Construction 100 Balls Tournaments. The Club currently has a total of 17 national players including Clinton Pestano, Jonathan Rampersaud, Kevin Sinclair, Shemaine Campbelle, Junior Sinclair, Erva Giddings, Kevlon Anderson, Shabiki Gajnabi, Sheneta Grimmond and Mahendra Gopilall.
Among the numerous activities completed in 2018 were the Scotiabank Mash Parade, the Award Ceremony, the Gregory Gaskin Sports Award, the Cricket Academy, Republic Bank Summer Camp, the ANSA McAL Award of Excellence, the Christmas Village, medical clinics, Say No/Say Yes Campaign, Annual Christmas Charity Programme and monthly Old Age Pensioners Programme. Foster also unveiled some major plans for the RHTY&SC in the future, including repairs to its office, construction of an all-weather cricket practice centre and an expansion of the Say No/Say Yes Campaign.
The Mayor of Rose Hall Town and Town Clerk Natasha Griffith both hailed the Club as a proud symbol of the township, and lauded the positive impact the Club has had on the lives of residents in Guyana's smallest township.
Regional Vice Chairman Dennis Deroop, one of the five awardees of the RHTY&SC's Dolphin Award of Excellence stated that the Club should be cherished by all Berbicians and used as a role model.
He pledged the cooperation of the Region Six Regional Democratic Council (RDC) to the Club on its community and youth development efforts. Guest speaker Jimeel Davis, in a well-received feature address, spoke directly to the young members of the Club on the importance of education, discipline, and being a role model for others to emulate. Davis told the attentive audience that success was achieved through hard work. Like the other speakers, he urged Club members to continue striving for excellence and to uphold the high standards they have set themselves. Over $500,000 worth of cricket balls, bicycles, cricket gear, stationery, trophies, household items and medals were donated to 20 cricket clubs, the Upper Corentyne Cricket Association, Berbice Cricket Board, students, the Rose Hall Town Hindu Temple, an elderly resident from New Amsterdam and a nurse whose house was recently destroyed by fire.
National player Clinton Pestano copped the prestigious RHTY&SC Cricketer of the Year Award and took home $350,000 worth of prizes including a Steven Jacobs-sponsored gold ring, bicycle, smartphone, watches, household items, electrical items, 'Lazy Boy' furniture and kitchen utensils.
Assistant Secretary Simon Naidu collected a West Indian gold medallion from King's Jewellery World and smart watch after being named "Worker of the Year/Benefit Year" while West Indies female fast bowler Erva Giddings copped the Female Cricketer of the Year Award.
Additionally, the Sports Club and official sponsor Bakewell honoured 15 members of the Rose Hall Town Bakewell Second Division Team for winning six major titles over the past 14 months.
The full list of awardees for 2018 is as follows:
Under-13 Batsman/Cricketer of the Year – Nyron Hicks
Under-13 Bowler of the Year – Nathan Kistama
Under-15 Batsman – Christopher Deroop
Under-15 Bowler/Cricketer – Matthew Pottaya
Under-17 Batsman – Mahendra Gopilall
Under-17 Bowler – Tyrese Sealey
Under-17 Cricketer – Jonathan Rampersaud
Under-19 Batsman/Bowler/Cricketer – Kevin Sinclair
Under-21 Batsman – Kevlon Anderson
Under-21 Bowler – Keith Simpson
Under-21 Cricketer – Kevin Sinclair
Metro Female Batter – Shemaine Campbelle
Metro Female Bowler/Cricketer – Erva Giddings
Second Division Batsman – Kevin Sinclair
Second Division Bowler/Cricketer – Junior Sinclair
First Division Batsman – Kevlon Anderson
First Division Bowler – Shawn Pereira
First Division Cricketer – Kevin Sinclair
Disciplined Male Player – Chanderpaul Govindan
Disciplined Female Player – Mariam Samaroo
Most Promising Female Player – Sheneta Grimmond
Most Promising Male Player – Kevin Sueraj
Most Committed Male Player – Mahendra Gopilall
Most Committed Female Player – Uma Matadin
Worker of the Year/Benefit Year – Simon Naidu
Most Improved Female Cricketer – Abigail Kishun
Most Improved Male Cricketer – Nicholas Lawson/Shivnarine Ramnarine
Male Fielder of the Year – Junior Sinclair
Female Fielder of the Year – Shabiki Gajnabi
Special Award – Eon Hooper
Special Under-13 Award – Terell Hutson
Cricketer of the Year – Clinton Pestano
Secretary/CEO Special Award: Terry Pike, Sohan Harry, Tyrone Pottaya, Keith Hicks, Ravindranauth Kissoonlall, Surendra Kissoonlall, Navin Raghoo, Mark Papannah, Eon Wiggins, Elizabeth Brusch, Phil Arthur, Brenda Millington and Neville Beaton.