Highway double murder
A post-mortem examination (PME) conducted on the bodies of 36-year-old Naco Malika Hale and 48-year-old Alwin Bleacher revealed they died as a result of multiple stab wounds to their bodies. The examination was conducted by Government Pathologist, Dr Nehaul Singh.
The bloodied bodies of Hale and her reputed husband, Bleacher, were on Tuesday found lying on their bed in their Lot 522 Kuru Kururu, Linden-Soesdyke Highway home by their 14-year-old son after he went into their bedroom to check on his mother, since she did not wake the children to prepare for school as was routine.
Hale was discovered lying in a pool of blood with several stab wounds to her neck, while Bleacher was laying partially on her with an incised wound to his lower back.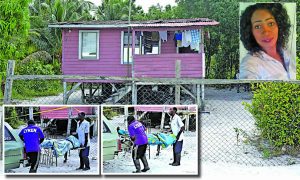 In his mother's hand was a pair of blood-stained scissors.
The eldest son confirmed that his parents were involved in a heated argument about 22:00h after which he heard a "scramble" followed by silence. The young man reportedly told investigators that he did not pay any heed to his parents since they usually argued. He said he, along with his siblings, went to sleep.
The argument, the teenager allegedly stated, stemmed from his mother's refusal to drop a court case against his father. The Police later stated that the now dead man was charged in August last for wounding his son. Guyana Times understands the teenager did not clean a "pig pen" and this angered his father, who picked up a knife and cut the young man on his abdomen.