Withdrawal of garbage collection services
Puran Brothers Disposal Services and Cevons Waste Management continue to remain on standby to resume garbage collection services for the Georgetown Mayor and City Council (M&CC), but cautioned on Wednesday that they would not do so until a credible assurance was given on payments.
The solid waste collectors indicated jointly that when they met with Communities Minister Ronald Bulkan and senior officials of the City Council last week, it was agreed that they would receive partial payments for the outstanding $160 million, owed since the first quarter of 2018. Added to that, the companies were prepared to recommence work immediately under the existing contractual agreement.
While it is up to City Hall to signal the "green light" for resumption of their services, the garbage collectors have posited that this has not been "forthcoming" and they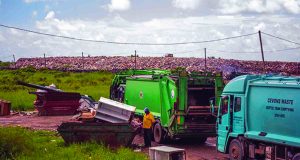 continue to remain on standby.
"Timely payment under the terms of our contract with the Georgetown City Council is a fundamental issue.  We cannot, we submit, be expected to provide services without reasonable assurances of timely payment. Where there is slippage we are prepared, as we have, over time, to exercise some measure of understanding to an extent that is reasonable."
It was reiterated that the withdrawal of services was the last option after the "lengthy payment delays" exhausted their "material ability" to provide services. This is being viewed as a "regrettable necessity" rather than a form of "insidious action".
"It is our capacity to continue to give service rather than our willingness to do so that results in work stoppages. Accordingly, we vigorously reject any suggestion that we are inclined to use outstanding payments as an excuse to 'play games' with our garbage disposal responsibilities," both collectors maintained.
Further, Purans and Cevons claimed that they made careful deliberations before pulling their services. For the pending Christmas holidays, garbage collection services will surge and refuse generation will increase.
For this reason, the agencies specified, "Our concern at this time is with ensuring that the citizenry not have to endure garbage-related inconveniences, and worse, at this time of year. It is against this backdrop that we repeat our earlier undertaking that we stand prepared to resume work immediately upon receiving City Hall's clearance. In our opinion, the sooner that assurance comes, the better."
At present, collection is being carried out throughout the city and its environs by five smaller contractors appointed by the Council to alternate work during the days of the week.
This has raised some concern among residents and business owners, whose waste accumulated for almost a week after the impasse before being collected.